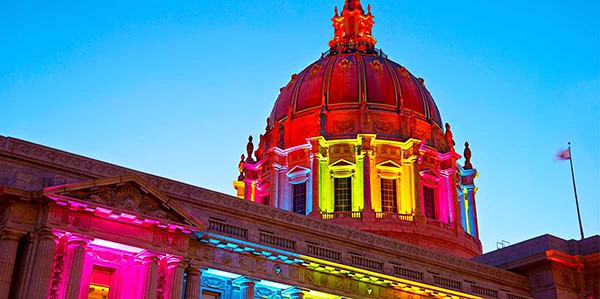 Our never-happy foes over at the American Family Association (AFA) are at it again.
AFA is an anti-LGBT nonprofit which fears the 'homosexual agenda' so much that it uses most of its $30M of annual revenue to promote the biblical ethic of decency in American society by boycotting companies such as American Girl, Hallmark Cards, Ford and, most recently, Target.
AFA's attack du jour is aimed at Hilton Worldwide, a company known to celebrate diversity and inclusion, that has received a perfect score in HRC Foundation's Corporate Equality Index for three years in a row.
After Hilton Worldwide published a full page ad in the June 2016 issue of Travel + Leisure magazine featuring two men in the same bed — smiling, under the covers and wearing t-shirts — AFA couldn't take it. Hilton had "shocked readers," and the organization had to do something about it.
After all, AFA explained on its website, "Travel and Leisure isn't a gay-specific magazine sent directly to homosexual's homes. It's a widely distributed mainstream publication that can be found in many public places such as doctors' or auto repair waiting rooms."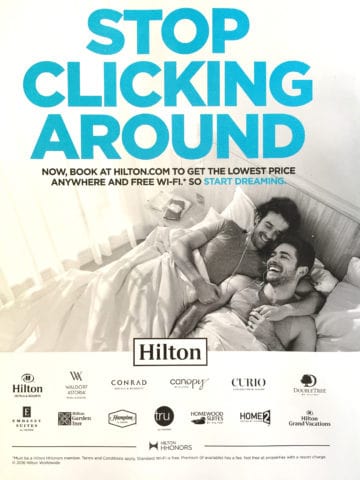 Can you even imagine? If you are waiting for your car to be repaired, grab a magazine to pass the time, and that's what you have to look at?
Thankfully, the AFA was generous enough to share some advertising ideas:  "If Hilton had advertised two men playing tennis, cards, or having lunch, that would have been reasonable. However, Hilton chose to make a cultural and social statement by purposely marketing the promotion of homosexuality to a large segment of the population who finds the idea of two men sleeping together unnatural and offensive."
To AFA, it's clear that "Hilton is defending its decision to promote homosexuality in the magazine and will likely take it further with other forms of mainstream media." The anti-gay organization even quoted the hotel chain to reinforce its point: "Hilton Worldwide is a global company of diverse cultures serving diverse guests…We are proud to depict and reflect our guest diversity in our advertising."
To the American Family Association, that is irrefutable proof that Hilton Worldwide is attacking traditional family values.
And because AFA aims to restrain evil by exposing the works of darkness, it asked concerned citizens to sign a petition to Hilton Worldwide urging them to market responsibly by advertising in a more family friendly manner when marketing through mainstream media:
Dear Hilton Worldwide:
I am offended by your ad in the June issue of Travel and Leisure magazine, featuring two men in bed together.
If Hilton is going to advertise in mainstream media, at the very least, it should promote with images that reflect a family friendly atmosphere.
In addition, I urge you to meet with pro-family leaders who represent my values and concerns over this matter.
The petition collected almost 43,000 signatures in less than 48 hours.
The Southern Poverty Law Center lists AFA as a hate-group for its continued use of demonizing propaganda aimed at homosexuals and other sexual minorities.
Bryan Fischer, a conservative radio hot and a writer for The Stand, AFA's official blog,  makes it easier to understand why: he has blamed the holocaust on LGBT people; has called for an "underground railroad" to kidnap kids from LGBT parents; he's said God is going to use ISIS to punish America for being tolerant of LGBT people; he's said that same-sex behavior  "represents an enormous threat to public health," and it clearly should be criminalized.
Photo credit: Hilton Hotels/Twitter