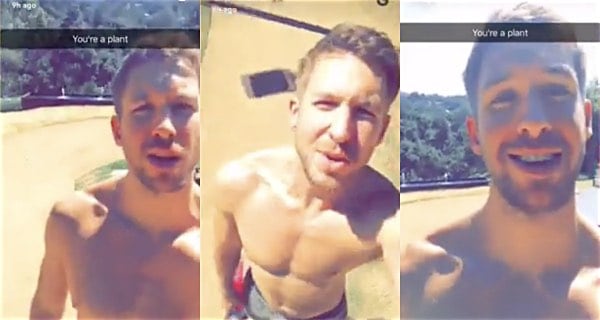 Calvin Harris may have been Vitamin D deficient when he posted a video to Snapchat recently extolling the virtues of natural sunlight, which he says you need because "you're a f**king plant."
Harris, who was recently nominated for three VMAs, has been at the center of an online brouhaha over his song "This Is What You Came For" which he co-wrote with now ex-girlfriend Taylor Swift.
In his Snapchat video, a shirtless and ripped Harris celebrated his VMA nods, and added,
"I'm just out here getting 15 minutes of sun. That's all you need. Use the sun's energy. Become a better person with the sun's energy on your side. You really gotta think of yourself as a plant. Like, how do plants grow? The sun, the water, you're a f**king plant. You're a plant! And on that subject of you being a f**king plant, imagine you feed your plant with [unintelligible] of Jack Daniels or Vodka. What happens to the plant? Yeah. A bit of tequila, a bit of vodka is fine for your plant. You're plant. So relax is what I'm trying to say."
Watch, below.
https://www.youtube.com/watch?v=IvLSpO8E2lE
[h/t Instinct]