STILL HASN'T CONCEDED OR ENDORSED. Bernie Sanders booed in closed door meeting: "House Democrats roughed up Sen. Bernie Sanders in a closed-door session Wednesday after he deflected questions about when he would formally back Hillary Clinton for president, with a group of members booing him at one point, according to three Democrats who attended the meeting." MSNBC reports that Sanders might endorse Clinton next Tuesday.
TELEVISION. Filming of Game of Thrones season 7 may be delayed. 
HILLARY'S EMAILS. How many were actually classified at the time she sent them?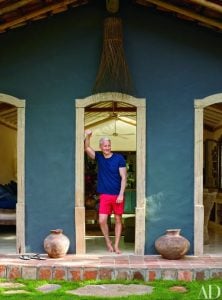 REAL ESTATE. Take a tour of Anderson Cooper's Brazilian vacation home. 
BABY BOYS. Comedian Tig Notaro and wife Stephanie welcome twin boys, Max and Finn.
CONGRESS. House Democrats may be staging a second sit-in this week over gun control legislation.
STRIKE A POSE. Brooklyn Beckham just signed a modeling deal. 
CRIME. Oscar Pistorius sentenced to 6 years in prison for murdering his wife, Reeva Steenkamp.
ALTON STERLING. Department of Justice to take over investigation into the Baton Rouge killing: "There should be no doubt in anybody's mind that this is going to be investigated impartially and thoroughly." More on Sterling's murder HERE.
VEEP STAKES. Senator Bob Corker (TN) and Governor Joni Ernst (IA) say 'thanks, no thanks' to being Trump's VP: "Shortly after news of Corker's decision broke, POLITICO reported that Iowa Sen. Joni Ernst – who met with Trump on Monday – told the presumptive GOP nominee that she's 'focused on Iowa,' all but taking her name out of consideration. Sources confirmed to NBC News that Ernst does not see herself as a potential running mate on the GOP ticket and that she conveyed those wishes to Trump earlier this week."
SWEETIE, DARLINGS. Giggling grannies kicked out of movie theater for laughing too much while watching the Absolutely Fabulous movie: "The pair, who are known to their friends and family as Eddie and Patsy, were asked to be quiet, then told to leave after the manager hid round the corner to listen to their hysterics."
ANTI-BULLYING. Prince William (aka HRH, The Duke of Cambridge) releases PSA on bullying.
SHAME. Gays Against Guns stage die-in targeting NRA-supporting Rep. Lee Zeldin (R-NY) in upstate New York. 
NYC. The intersection of 57th and 5th officially became Bill Cunningham's Corner today: "A communications advisor to the mayor clarified to Racked that the temporary renaming, a decision that's made solely at the mayor's discretion, will last for one week. However, 'the Administration will continue to work with the Council, the community, and Bill's friends and colleagues on a permanent way to honor his legacy.'"
NYC DOT crews were on site today to help with the temporary naming of 57th St & 5th Ave as "Bill Cunningham Corner" pic.twitter.com/BNW5SvxY1p

— NYC DOT (@NYC_DOT) July 6, 2016
HUMP DAY HOTTIE. Joseph Banks.