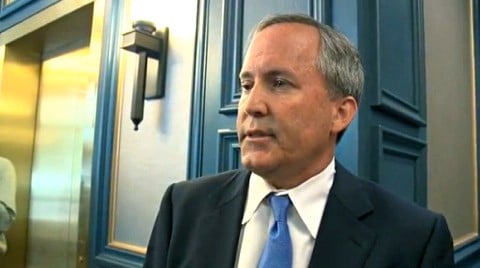 A coalition of 13 states is seeking an immediate halt to President Obama's "transgender bathroom" directive.
Lawyers for the coalition argue that "the new mandate harms school districts from coast to coast by usurping lawful authority over the regulation of educational institutions and the management of their facilities. It also jeopardizes billions of dollars of federal funding. Nationwide relief," they claim, "is necessary to prevent the irreparable harm that the new mandates will cause."
The Dallas Morning News reports that the coalition includes Alabama, Arizona, Georgia, Kentucky, Louisiana, Maine, Mississippi, Oklahoma, Tennessee, Texas, Utah, Wisconsin and West Virginia.
Led by Texas Attorney General Ken Paxton (above), the lawsuit filed Wednesday would affect public schools across the country if successful.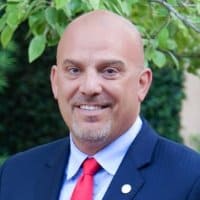 Harrold Independent School District, near Wichita Falls, Texas is the official plaintiff on behalf of the state, but most of the attention there has fallen on the Fort Worth Independent School District where Superintendent Kent Scribner (right) issued guidelines that would allow transgender students to use the bathroom of their choice.
Last week, Paxton issued a nonbinding opinion that the Scribner's guidelines violate state law by relegating "parents to a subordinate status" in being informed about their children. Paxton added that Scribner illegally enforced the rules without the school board's input.
Love it! https://t.co/zagJVRsNVt

— Attorney General Ken Paxton (@KenPaxtonTX) January 23, 2016
Scribner has ignored calls for him to step down and has issued a letter to state leaders noting that the district had approved official guidelines relating to transgender students five years ago.
Yesterday, Paxton reiterated the state's stance that the federal government is trying to change the meaning of the word "sex" in anti-discrimination laws by including "gender identity" in the definition. In a written statement, he said:
"Schools are facing the potential loss of funding for simply exercising the authority to implement the policies that best protect their students. Every employer is now being threatened for not bowing to anyone that identifies as the opposite sex."
(Scribner image via LinkedIn)