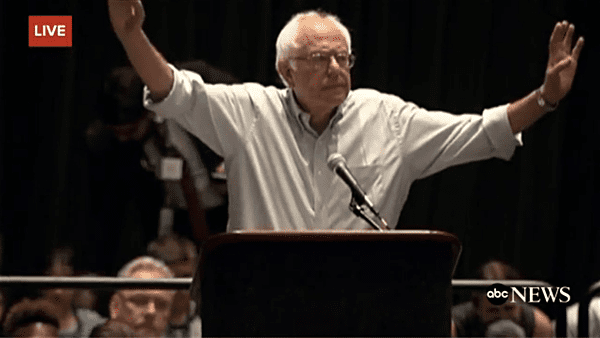 Bernie Sanders was booed by his own supporters on Monday at the Democratic National Convention in Philadelphia when he called on his supporters to vote for Hillary Clinton and Tim Kaine.
Sanders was booed just hours after DNC Chair Debbie Wasserman Schultz was booed before her own Florida delegation on Monday morning. Schulz has been embroiled in an email controversy since Wikileaks released internal emails sent by Schulz and other DNC officials showing a bias against Sanders and in favor of Clinton among top party brass during the primary. Schultz on Sunday announced she would step down as head of the DNC after the convention. 
Addressing his own delegates, Sanders said, We have got to elect Hillary Clinton and Tim Kaine. That call lead to calls of "no!" and lots booing from the assembled crowd.
Sanders struggled to quell the disquiet, saying,"Brothers and sisters–brothers and sisters–This is the real world that we live in. Trump is a bully and a demagogue. Trump has made bigotry and hatred the cornerstone of his campaign."
Many supporters spoke over Sanders as he addressed the crowd.
Sanders also called on his supporters to do the menial tasks necessary to electing Clinton as the next president. "Real politics is not necessarily sexy," Sanders said, "but that is what we need to do."
Watch, below.