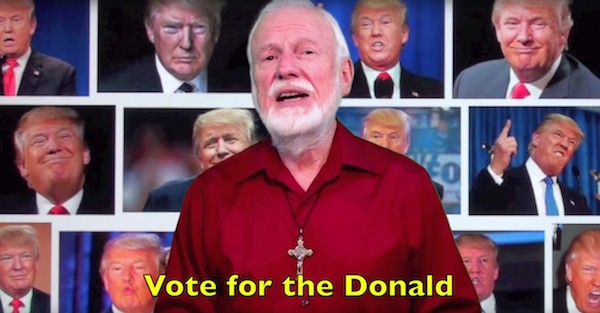 Longtime Towleroad readers may remember William Tapley (aka Third Eagle of the Apocalypse) from back in 2011 when he first splashed on to the YouTube scene with a video in which he pointed out the dirty man parts in all the art and architecture at the Denver International Airport.
He also composed a couple of campaign songs for Mitt Romney which you can listen to here and here if your ears are yearning for some pain.
But now he's been so inspired by the Republican choice for president that he's back with a doozy of a tune inspired by the carrot-headed neo-fascist.
The Third Eagle is laying a claim for it as the "unofficial" campaign song for the 2016 Trump-Pence Republican presidential ticket, and now that Donald is in a legal battle with the Freedom Kids Tapley might just have an in.
What do you think?