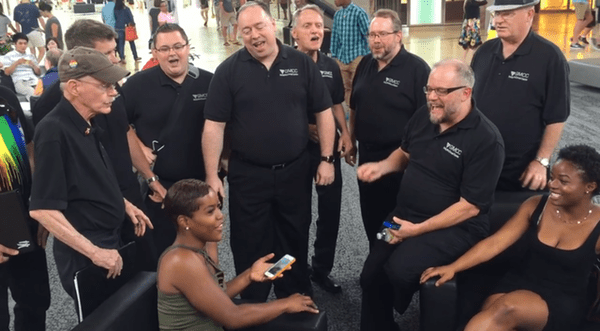 The Gay Men's Chorus of Charlotte, North Carolina took to serenading strangers in a local mall over the weekend to spread happiness and joy.
The group says they were taking part in a grassroots social media campaign called #KindnessMatters which encourages people to perform random acts of kindness and share them online.
Members of the chorus said they were looking for individuals who appeared to be in need of a song. Among those serenaded was Clarise Baker, who was treated to a performance of Bruno Mars' "Just the Way You Are." Via People: 
"It was so nice, I almost cried," [Clarise] Baker tells PEOPLE. "It was just beautiful."
Her friend Chi was also moved, saying, "It made me feel warm. I kept on smiling. It just made me smile and one smile makes everyone's day better."
"That's exactly what it's all about," said John Quillin, the director of the chorus. […]
"It's been a bad couple of weeks," Quillin said. "We're just out spreading a little bit of happiness and joy."
Quillinn added, "The whole day was just a blast. Song pulls people in, which is why we sing. Can music stop a bullet? I don't know, but it can bring us all together."
Watch the group perform "Just the Way You Are", below.
https://www.facebook.com/michelle.boudin.1/videos/10154333238843894/