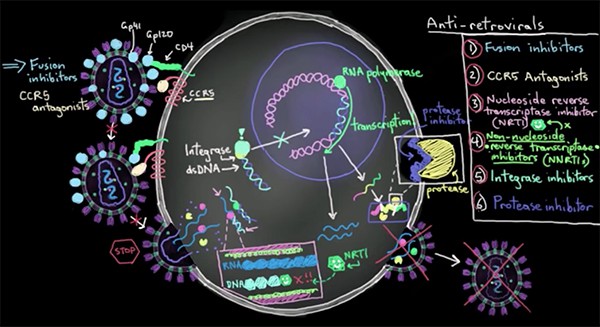 A study published last week in the Journal of the American Medical Association (JAMA) found no HIV transmission in 58,000 cases between serodiscordant couples (when one is positive, one is negative) who had sex without condoms. The positive partners were on ART (antiretroviral therapy) and had an undetectable viral load and the negative partners weren't on anything.
The PARTNER study is a collaboration involving independent researchers and scientists from Europe. The study's just-completed phase 1 was funded by the National Institute of Health Research in the UK. It took place between September of 2010 and May of 2014 and enrolled 1166 couples, both straight and gay, in 14 European countries. The average age was 42 years.
The study aimed to understand the risks of HIV transmission when serodiscordant couples have condomless sex when the HIV-positive partner is on Antiretroviral Therapy (ART).
During 46 months, participants routinely answered questions about their sexual history, and researchers tested the negative partners for HIV and checked the positive partner's viral load. Couples were only included in the final analysis when the most recent viral load for the positive partner was undetectable – defined as below 200 copies/ml (aidsmap.com defines undetectable viral load as below 50 copies/ml).
Of the initial 1166 couples, 888 couples — 548 straight and 340 gay — made it to the end study. Only data from couples who still fit the initial criteria were analyzed. (If a couple didn't have condomless sex, for example, or if the negative partner went on PrEP, or if the positive partner's viral load went above 200 copies/ml, they weren't considered for the final analysis.)
In 46 months, these 888 couples had unprotected sex over 58,000 times, and no cases of HIV transmission were found . (Eleven people became infected, but the analysis of the virus revealed that none of them had been infected by their partners, but by having sex outside of their relationship.)
The results are encouraging. They provide "the strongest estimate of actual risk of HIV transmission when an HIV positive person has undetectable viral load – and that this risk is effectively zero," the study concluded. "It reverses the common assumption that, by definition, some level of risk always exists when one partner is HIV positive."
"The PARTNER study provides good evidence that undetectable viral load might be a threshold below which sexual HIV transmission does not occur," even when "the positive partner comes inside the negative partner."
Showing the impact of HIV treatment (ART) on reducing HIV transmission can benefit millions of people globally. "The results challenge criminalization laws that in many countries, including the United States, continue to imprison hundreds of people based on assumptions of risk that these results disprove, even when condoms are used and viral load is undetectable", HIV-iBase's Simon Collins  wrote in a statement.