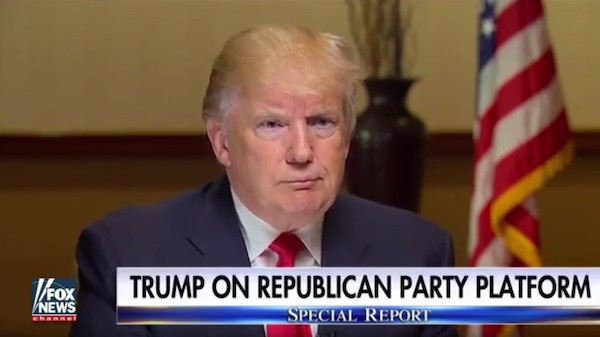 Donald Trump has indicated that he sorta kinda supports the ultraconservative GOP platform which opposes LGBT rights, aims to reverse the legalization of same-sex marriage and supports parents' rights to use harmful ex-gay therapy on their children.
Speaking with Fox's Bret Baier yesterday, Trump said that the platform "is largely a Trump" one, likely referring to its support for "the entirety of the Southern Border and must be sufficient to stop both vehicular and pedestrian traffic" and "special scrutiny" of foreign nationals seeking to enter the U.S. from "regions associated with Islamic terrorism."
https://twitter.com/realDonaldTrump/status/753347448743964672
"You can see that the platform is perhaps more socially conservative than you've campaigned on," Baier said.
Trump responded, "Well, if you look at trade and if you look at the Wall and you look at the borders and you look at all the things, I mean, a few people have said it looks like a Donald Trump speech."
Pressed by Baier on GOP opposition to legal abortion and to women in the military serving in combat roles, Trump said, "Well, look, you know, no platform is ever the same way…" and said there seemed to be "very few [women] that qualify from a certain standpoint…"
Asked about married gay couples adopting children and transgender rights, Trump said, "Just so you understand — no platform — I am a representative of the party. Many of the things on that platform has been amazing! In fact some of them I was really surprised that we won, including very strong borders, et cetera et cetera. I mean, we won. I think what's happening with the platform is very good. Do I agree with everything? Nobody ever has."
Pressed on the issues of the platform's opposition to medical marijuana, Trump responded, "They opposed that?"
Watch the interview below.