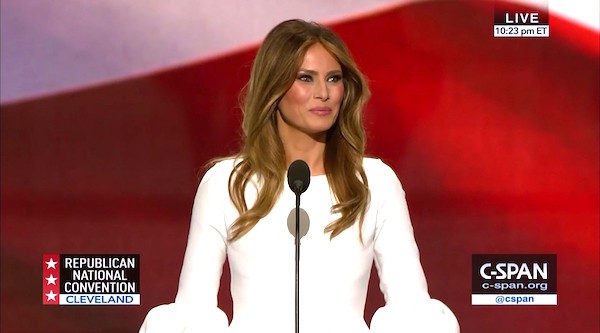 Melania Trump's personal website vanished from the internet yesterday after questions were raised about whether she really obtained a degree in architecture she said she had obtained from the University of Llubljana, the Huffington Post reports:
Her online biography claimed she had, but a book about her life published earlier this year says she left the university after one year so she could pursue a modeling career.
Embellishing Trump's educational achievements in her online biography "was almost certainly done in consultation with Trump and his advisors, as they were desperate to give off the impression that the Slovenian model was not just beautiful, but also smart and well-educated," according to Melania Trump: The Inside Story, an unauthorized biography of the potential first lady.
Questions about Trump's educational background gained a new sense of urgency last week, after she delivered a keynote at the Republican National Convention that had been plagiarized from a speech current first lady Michelle Obama gave at the Democratic National Convention in 2008.
Melania Trump also tweeted this:
— MELANIA TRUMP (@MELANIATRUMP) July 28, 2016