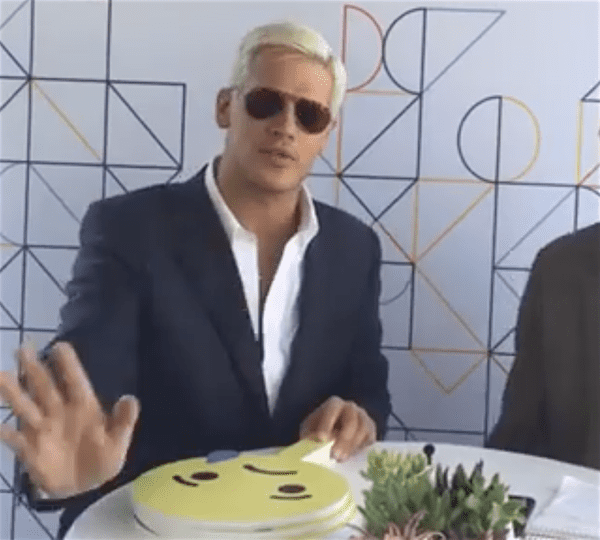 Homocon Milo Yiannopoulos says he is in talks to have his own reality TV show and movie after being banned from Twitter earlier this week.
Twitter made the decision to ban Yiannopoulos after he harassed Ghostbusters star Leslie Jones with racist Tweets.
"I have a couple of deals on the table I'm thinking about," Yiannopoulos said. "We are currently considering a reality show, we are currently considering a feature-length movie."
The right-wing firebrand wouldn't reveal details of either project, but said that there will be video cameras aboard his bus during his "Dangerous Faggot" tour, where he preaches conservatism on college campuses. His next tour kicks off in September and will take him to 26 campuses.
Yiannopoulos, who also writes for right-wing site Breitbart, said that Twitter's decision to ban him was politically motivated and hinted that Jones was playing the victim:
"We all get this stuff, but only some people play it for currency, use it as a weapon," he said. "I want to crack jokes about people. That is my right."
If Twitter changed course and decided to allow Yiannopoulos to re-join, Yiannopoulos said, "I may deign to return."
Yiannopoulos has been garnering attention at the Republican National Convention in Cleveland after he hosted a "Gays for Trump" party that was a startling celebration of anti-Islamist bigotry.
Yiannopoulos was also in the news on Wednesday after a confrontation took place between producers of The Daily Show and an attendee of his "Gays for Trump" party. The Daily Show was interviewing one such gay for Trump and a fellow Republican decided to record the recording of the interview, believing The Daily Show would "slice and dice" the young man's words into something embarrassing. More via THR:
"The Daily Show likes to slice and dice," Yiannopoulos said, adding that he presumed their agenda was to suggest that "gay conservatives are broken, self-loathing weirdos."
"What we did was turn the camera on them," he said. "All's we wanted to do was look at what The Daily Show ends up broadcasting and look at what actually happened and let people judge for themselves."
Watch Yiannopoulos' Facebook Live interview with THR, below.