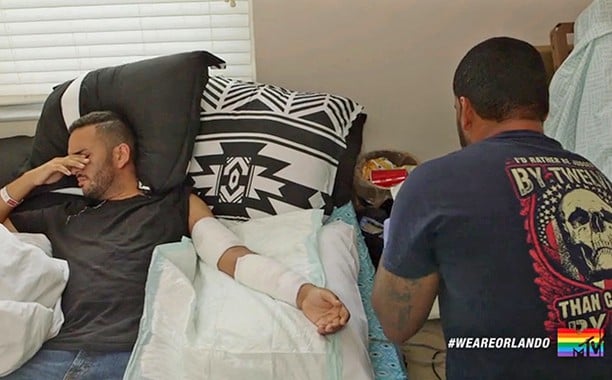 MTV's series True Life is taking a look at the survivors of the Orlando massacre.
The Pulse shooting was the deadliest mass shooting in America history, leaving 49 dead and 53 injured.
The upcoming episode of the long-running MTV show will bring attention to four survivors who are still struggling to recover from the horror and violence they experienced.
True Life: We Are Orlando, which will premiere on August 15, will showcase four brave survivors of the attack as they try to come to terms with the trauma and get their lives back on track. But there's a twist: For the first time in the series' run, viewers will become acquainted with those featured on the program before the episode airs and follow their stories as they are being filmed.
Spotlighted in the August 15 episode are Tony Marrero, Joshua McGill, Patience Carter, and Tiara Parker. Marrero faces a long road to recovery after being shot four times, including once in the back, while also dealing with the loss of his best friend, who died that night. McGill was one of many heroes that night as he fled to the back of the club to help a man in need and helped save him. Carter and Parker were on vacation from Philadelphia and ended up hiding the bathroom throughout the shooter's three-hour standoff with police.
Beginning Monday, MTV will release clips featuring the 4 survivors while production is still underway.
Watch one of those clips, below.
Warning: the video shows some graphic images of wounds from the Pulse shooting.