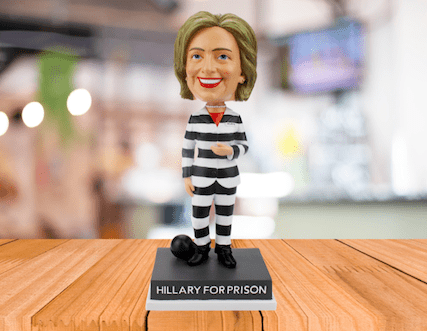 Donald Trump's campaign is selling "Hillary for prison" bobbleheads in its online store to help fund the Republican nominee's bid for the presidency.
For just $34.99 you can own your very own bobblehead doll of Hillary Clinton in a black and white striped pantsuit with a ball and chain (an actual ball and chain–no Bill jokes, please).
But you better hurry, because this is a limited edition item.
The product's description reads, 
"Are you sick of seeing Crooked Hillary break the law but somehow avoid going to jail? Well, now is your chance to see Hillary the way she belongs–in a prison jumpsuit. Made of durable polyresin, this limited edition collector's item features America's most hated politician in classic prison clothing, adorned with a ball and chain. Illegal email server sold separately. "
A Facebook ad for the doll describes Hillary as "America's most hated politician."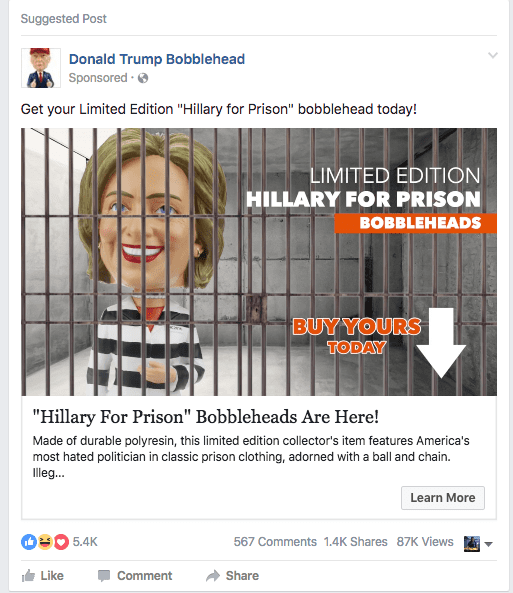 The really bad news is that there's a 3 'Hillary for Prison' bobblehead per customer limit. So you know there will be some angry calls to the Trump customer service helpline from white-supremacist Duggars birthers livid as all get out that they can't buy enough bobbleheads for all of their 19 children.
Trump stoking the calls for sending Hillary Clinton to jail is nothing new. "Lock her up" was a common cry at the Republican National Convention in Cleveland this summer. And while some may have suggested that Trump tried to soften that by responding to that rabid chant with "Let's defeat her", that shift didn't last long as it would be only weeks later that Trump would suggest assassinating Clinton would be the only way to stop her.