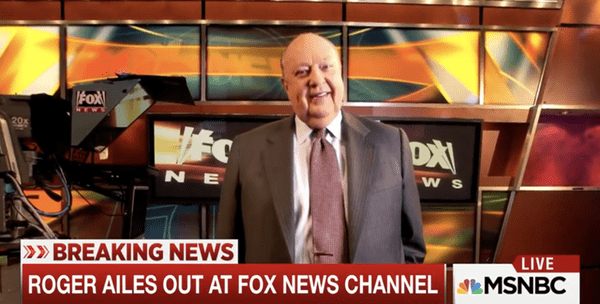 Roger Ailes is reportedly advising Donald Trump ahead of the presidential debates between Trump and Hillary Clinton. The disgraced former head of FOX News was ousted from his post earlier this year after reports emerged suggesting he repeatedly sexually harassed women under his employ. Ailes also has a record of being a vehement and vocal opponent of gay rights.
The New York Times reports on Ailes' new gig: 
Mr. Ailes is aiding Mr. Trump's team as it turns its attention to the first debate with Hillary Clinton, the Democratic nominee, on Sept. 26 at Hofstra University on Long Island, according to four people briefed on the move, who insisted on anonymity because they were not authorized to discuss the matter.
Two of them said that Mr. Ailes's role could extend beyond the debates, which Mr. Trump's advisers see as crucial to vaulting him back into strong contention for the presidency after a series of self-inflicted wounds that have eroded his standing in public opinion polls.
The Trump campaign denies that Ailes is serving as an adviser.
The NYT also reports that Ailes was once "a sought-after debate coach, working with Ronald Reagan in 1984 and readying Vice President George Bush for debates with the Democratic candidate, Gov. Michael Dukakis, in 1988."
Ailes has a history of homophobia that includes a penchant for using the word "faggot", and the time he ejected a gay rights protestor by the throat from a 1989 rally for then mayoral candidate Rudy Giuliani. Ailes reportedly has lived in fear of "Those gays" ever since, insisting that his corner office on the second floor of Fox's NYC HQ be reinforced with "bombproof glass", fearing gay rights activists were eager to retaliate against him.
Watch a report on Ailes' ouster from FOX, below.