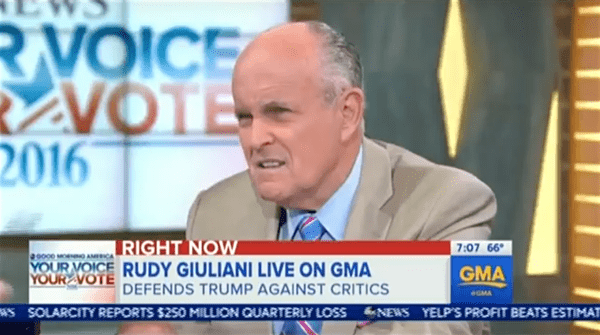 Donald Trump supporter and former NYC Mayor Rudy Giuliani again tried to defend Trump's "2nd Amendment" remarks that he made in North Carolina on Tuesday, saying that if Trump had really called for the assassination of Hillary Clinton the crowd assembled at his rally would have "gone wild."
Giuliani told George Stephanopoulos on Wednesday, "What he intended was, that they should vote against her…With a crowd like that, if that's what they thought he meant, they would've gone wild."
Stephanopoulos quickly interjected, "We did see that one guy behind him."
'That one guy' Stephanopoulos was referring to can be seen in this video appearing taken aback by what Trump has just said about '2nd Amendment people' stopping a President Hillary Clinton from appointing liberal justices to the Supreme Court.
https://vine.co/v/5bezz2QJp2w
Also in the interview, Giuliani attempted to blame the controversy on the "Clinton machine." He told Stephanopoulos, "I'd like the people at home to realize is, the first time any of had any idea that that was the way it was interpreted was when the Clinton machine interpreted it that way."
Never mind the fact that countless Twitter users immediately viewed Trump's remarks as calling for the assassination of Clinton, long before the Clinton campaign could put out a statement.
Of course, if you've been following along with the Trump campaign's vitriolic rhetoric, Trump's suggestion that "2nd Amendment people" assassinate Hillary Clinton is just the latest, albeit most flabbergasting, comment in a string of comments that suggest Trump has no problem inciting violence.
Attendees of last month's Republican National Convention were able to purchase merchandise calling Clinton a "bitch" and a "tramp," while on the convention floor they repeatedly chanted for her to be imprisoned. During a radio interview from the RNC, Trump adviser Al Baldasaro openly called for Clinton to be executed. Though the remark prompted Baldasaro to be investigated by the Secret Service, Trump has refused to sever ties with him. In fact, during a rally last weekend, Trump gave Baldasaro a shout-out, saying he's "been so great."
Watch Giuliani try to defend Trump, below.