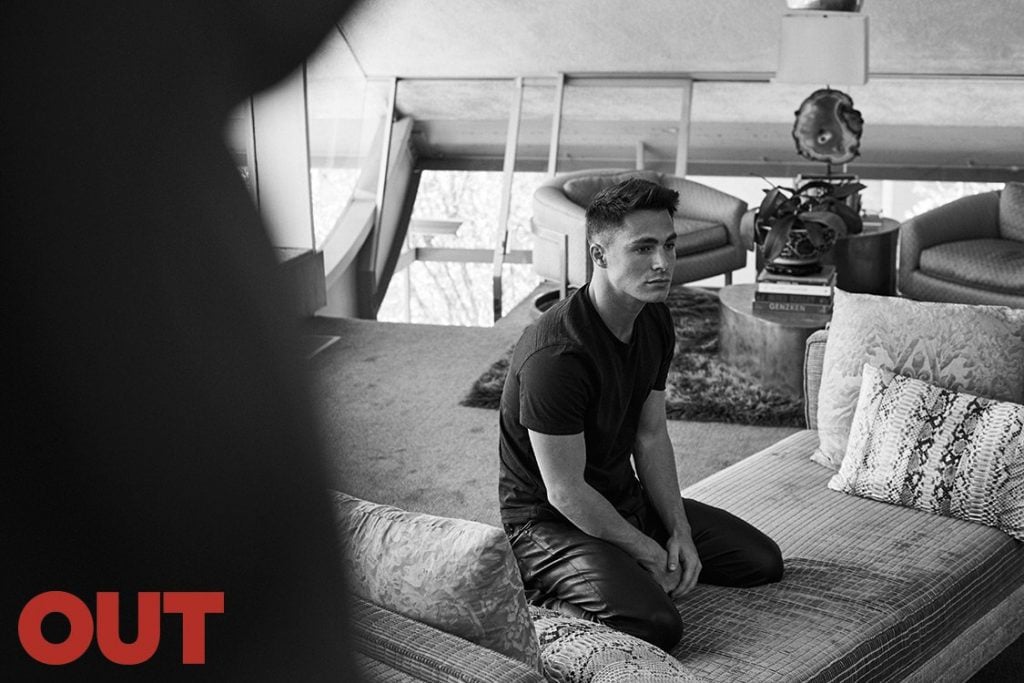 Recently out actor Colton Haynes is opening up on coming out, anxiety, dating, growing up gay in Kansas, and those comments by Real O'Neals star Noah Galvin.
In a candid interview with OUT magazine, Haynes says that hiding his sexual orientation for so many years increased the anxiety he has dealt with most of his life. Haynes says that his decision to remain publicly in the closet was motivated by advice from managers and agents in the entertainment industry who told him that coming out would be bad for his career.
Said Haynes,
"I feel really bad that I had to lie for so long…But I was told that was the only way I was going to be successful. When you're young in this industry, people take advantage of you, and they literally tell you that your dreams are going to come true. If you believe that, you'll do anything. And you do believe it, especially if you're from Kansas."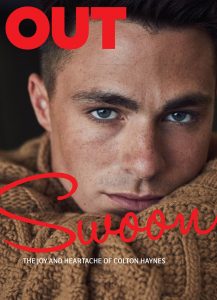 Haynes' life has been somewhat chaotic in recent years, having ended a six-year relationship after he discovered his boyfriend was regularly cheating on him, endured "regular bouts of panic-induced vomiting on set", made an unplanned departure from the CW show Arrow, and dealt with a stomach ulcer.
Perhaps one of the ironies about Haynes remaining publicly in the closet for so long is that he came out to his family and friends at a relatively young age. Something not necessarily easy to do in rural Kansas, where Haynes grew up:
He describes his hometown as a place where "you just couldn't be gay," and though he'd known he liked boys since he was in first grade, everything changed when he came out to classmates and family at age 14. The bullying escalated to the point that Haynes's older brother Clinton would meet him outside of class to protect him. (Haynes is one of six, with brother Clinton and four half siblings.) At home, Haynes's mom, Dana, was both blindsided and dismayed by her son's announcement. His response was to rebel. A year of exploration—in which he lost his virginity to both sexes—also became one rife with drug experimentation. He ran away from home for three weeks and bunked in a friend's closet. He was there when an estranged relative called to tell him that his father, William, had committed suicide by swallowing roughly 40 oxycodone pills.
"I'm the last person in the world who would say, 'Oh, my dad—pity me,'" says Haynes, whose father, seven times married, split from Dana and was never close with him. "But I was told that my dad killed himself because he found out I was gay. So, of course, I lost it and was like, 'How could you say something like that?' And no one will ever really know the truth. But my brother and my mom went to pick up my dad's stuff, and the only picture on his fridge was my eighth-grade graduation picture. So I was just like, F[*]ck."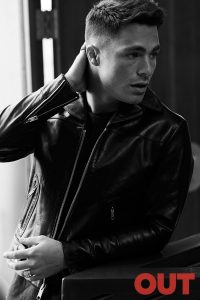 Haynes also addressed his infamous XY magazine shoot, which he did with his then-high-school-boyfriend. Haynes viewed the photo-shoot as his ticket to a career in the entertainment industry. He didn't expect that it would become an albatross he would carry around his neck for years to come. Haynes says that the legal action taken on his behalf demanding that gay blogs take down photos from that shoot (which happened around the time Haynes appeared on MTV's Teen Wolf) was the doing of his 'team.'
Haynes explains,
"I looked like I was f*cking gay-bashing. Like I hated myself or I hated the gays, which was never the intention at all. I was just young and trying to make it in this town and doing what these people were telling me to do."
Haynes also says his first manager dropped him from his roster for being gay and suggested he post an ad on the now defunct Rentboy.com to make extra money. Advice he didn't take.
https://instagram.com/p/BI7vqS6AiUX/
As for comments that Real O'Neals star Noah Galvin recently made, criticizing how Haynes came out ("That's pussy bulls*t"), Haynes feels Galvin's remarks were out of line:
"I said I was gay, like, 50 times during that interview," Haynes insists. "That's just not the way they chose to print it. I would never try to hold that back, especially for my first out interview."
Haynes was mostly surprised by Galvin's comments. "When I came out, Noah tweeted, 'Welcome to the family,' and 'So proud of you,' " Haynes says. "I have the tweets saved on my phone. Then, all of a sudden, I'm the worst, I'm a terrible person, and I'm a shame to the gay community. I think just having enough nerve and guts to come out in any way is a lot. It was really an emotional thing for me. And for that to be discredited by someone who has never met me was upsetting. He has no idea what I've been through. And I can't sit here and have a conversation about Noah because I don't know him either." Galvin was unavailable for comment for this story, but his reps did offer to share his subsequent public apology, which is one thing Haynes has no qualms critiquing. "I think anyone in their right mind would call bullshit on that," he says.
And though Haynes is now publicly out and feeling more free than ever, he isn't necessarily focused on dating. And he says his love life isn't that exciting. Says Haynes, "I haven't had sex in—I couldn't tell you how long."
You can read the rest of Haynes' interview with OUT here.
[Photos via OUT]