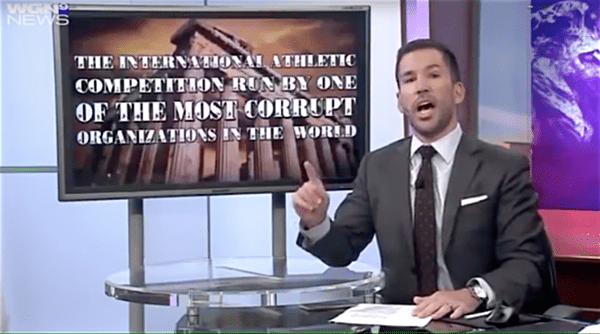 In a hilarious and brilliant take-down, a Chicago-area sportscaster railed against the strict rules NBC enforces on other news organizations that want to report on the Olympics games.
WGN Chicago's Pat Tomasulo managed to skewer not only NBC but also the International Olympic Committee (IOC)–all with the help of R. Kelly and video footage from his days as a singlet-wearing high school wrestler.
"It's not the actual sports of the Olympics I don't like," Tomasulo said Tueday on a live segment. "It's NBC's restrictions on the TV rights and anything Olympic-related."
Tomasulo lamented the lack of WGN Chicago's Olympics coverage, which, per NBC's rules, can include only two minutes of video and must contain a three-hour gap between programs. And those minuscule video rights are just the beginning.
"We're not even allowed to use the Olympic theme song this year," Tomasulo said. "Did you know that? And we can't even incorporate the Olympic rings in any of our unique graphics. We have to show the whole thing or not at all."
So Tomasulo decided to talk about another international sporting event currently going on that totally, 100% has nothing to do with the Olympics. You've probably heard of it: the "International Athletic Competition Run By One of the Most Corrupt Organizations in the World."
These games have a completely different logo than the Olympics–multi-colored intersecting triangles– to make sure the two events aren't equated
And this competition's theme song? R. Kelly's "Bump 'n Grind"–which Tomasulo did a flawless lip-sync of.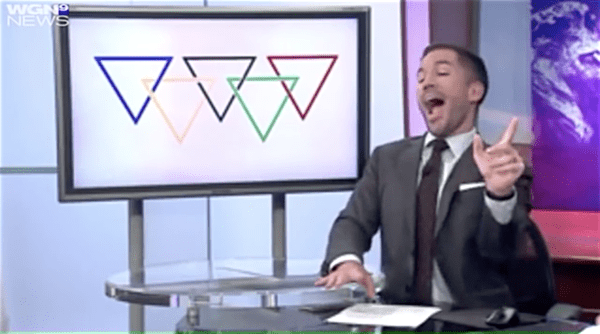 To wrap up his argument about NBC's draconian rules on use of Olympics footage, Tomasulo said, "And now, just to cover ourselves legally, I'm going to give the report over my high school wrestling highlights because I have no video left."
Which he did while giving highlights of athletes whose names might sound familiar. Like Mickey Phelps.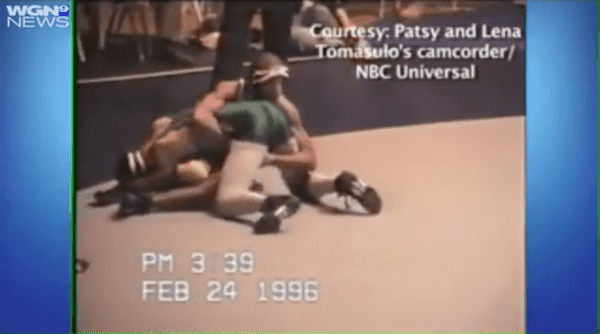 Watch Tomasulo, below.
https://www.youtube.com/watch?time_continue=1&v=yhC0qXtTxZo