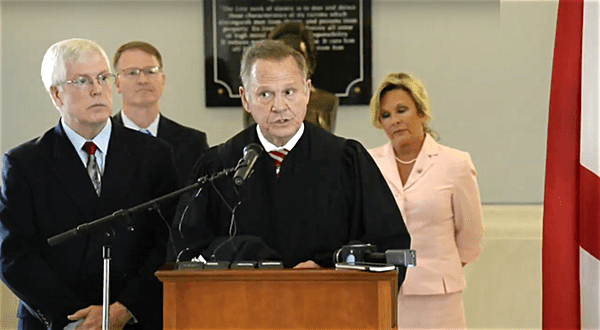 A federal judge on Thursday refused to overturn the suspension of anti-gay Alabama Supreme Court Justice Roy Moore.
Moore was suspended by a state commission after he defied the U.S. Supreme Court's ruling on gay marriage. Specifically, Moore issued an order to Alabama probate judges instructing them that the state's ban on same-sex marriage was still in effect despite the ruling in Obergefell v. Hodges.
A long-time foe of marriage equality, Moore could be permanently removed from the bench because of his obstruction.
U.S. District Judge Harold Albritton threw out Moore's lawsuit against the Alabama Judicial Inquiry Commission with a brief order and an accompanying opinion that said the state judicial ethics case against the conservative Republican should move ahead without federal interference.
The commission filed charges against Moore with the Alabama Court of the Judiciary, which has the power under state law to consider administrative cases brought against judges. Moore claimed his resulting automatic suspension with pay was a violation of his rights, but the judge said the case did not fit the circumstances required for federal action.
Moore is represented by Mat Staver of anti-LGBT group the Liberty Counsel, who also famously defended county clerk Kim Davis. Staver has not said whether he and Moore will appeal today's decision:
"Alabama's automatic removal provision goes against the assumption in law that a person is innocent until proven otherwise," Staver said in a statement. "This provision should be struck down."