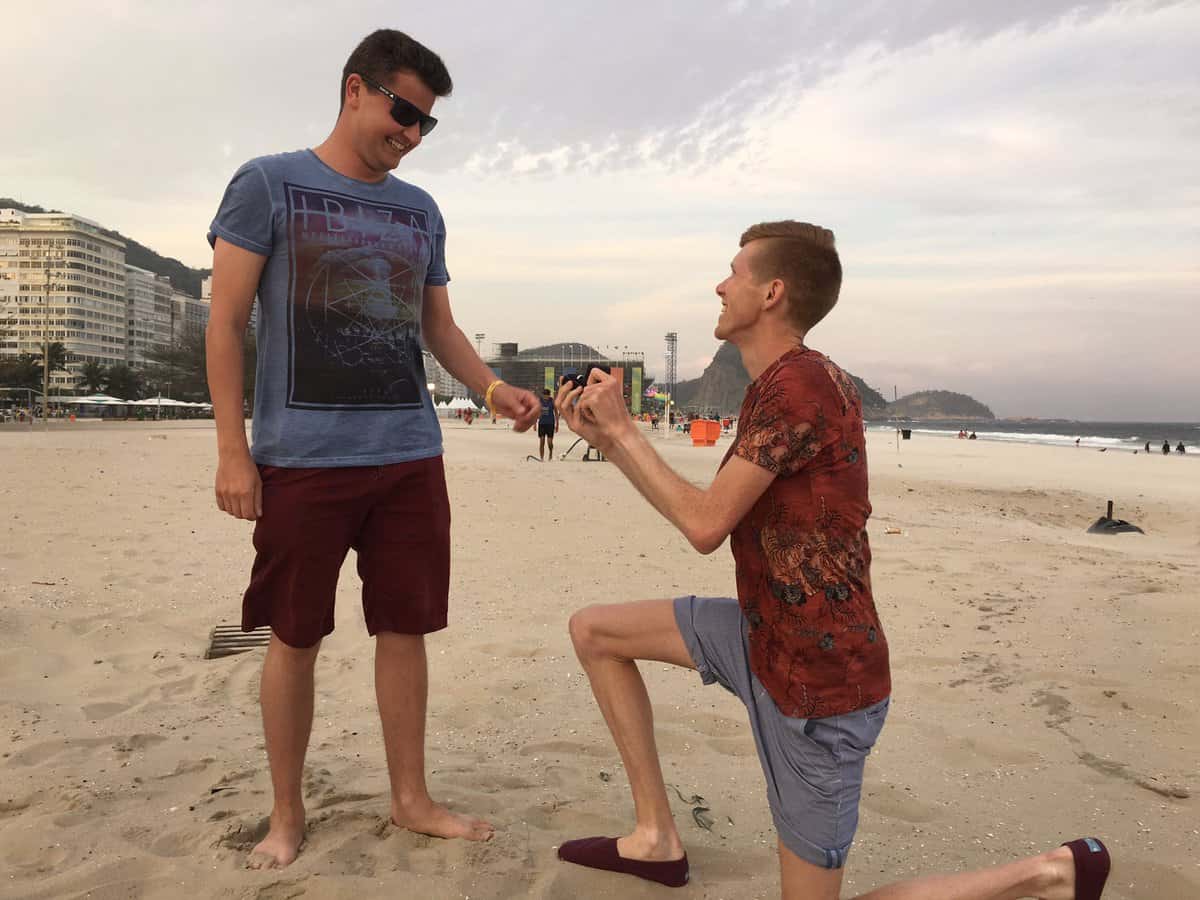 Gay British track and field athlete Tom Bosworth proposed to his boyfriend Harry Dineley while in Rio de Janeiro for the 2016 Olympics.
Bosworth, a race walker for Team GB (as in Great Britain), shared the above photo on Twitter of him down on one knee with ring box in hand. Bosworth captioned the photo simply, "He said YES!!!"
Bosworth had a strong showing at the Rio Olympics last week, finishing 6th in the 20K race walking event–impressive considering he was ranked 37th in the world in the lead to the games.
Ranked 37th… finished 6th. I'm not disappointed, I took it out, learnt from it, this is only the beginning of something great!

— Tom Bosworth (@TomBosworth) August 12, 2016
Just realised that I actually finished 6th at the Olympics. I wasn't dreaming. Got goosebumps this morning! pic.twitter.com/Z0LgitlwZT

— Tom Bosworth (@TomBosworth) August 15, 2016
Bosworth came out in 2015, telling the BBC at the time, 
"It's a scary thing. I'm really lucky. I've got a loving partner, a great family behind me, a great setup in Leeds, and everyone is really supportive and really welcoming, but that's not the same for everybody else in this world today, even in 2015. It's difficult for people to speak with their friends and family about a lot of different issues, and in sport I don't think being gay is still a normal thing."
Bosworth has been sharing photos of him and his now fiancé on Twitter as they take in the sights of Rio de Janeiro.
Great day just being a normal person and celebrating this great season with my fam! Putting race walking on the map! pic.twitter.com/xJInus9ewg

— Tom Bosworth (@TomBosworth) August 15, 2016
Lovely day so far with H! pic.twitter.com/YhtnTVnIm0

— Tom Bosworth (@TomBosworth) August 14, 2016
Bosworth's proposal is the second gay marriage proposal in Rio since the beginning of the Olympic games.