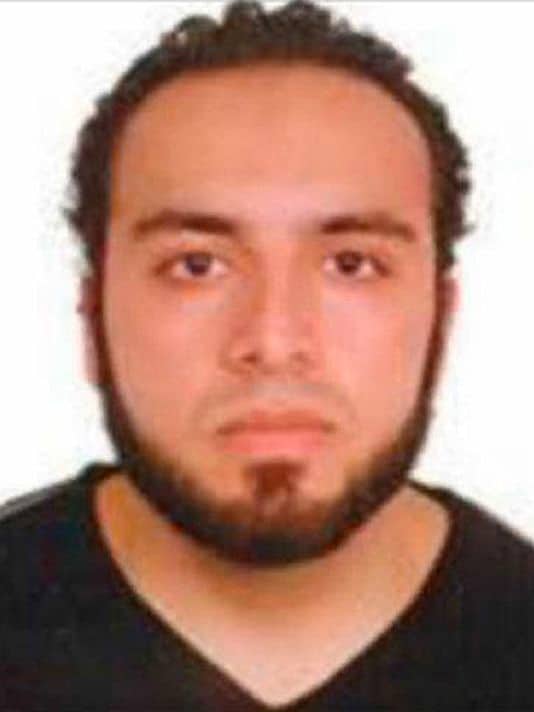 The NYPD has tweeted and issued an emergency alert to mobile phones in the New York City area seeking a person in connection with the bombing in the Chelsea neighborhood of Manhattan on Saturday night. 28-year-old Ahmad Khan Rahami is being sought for questioning. Call #800577TIPS with any information.
Additional photos:
Authorities now believe that all incidents in New York and New Jersey since Saturday are connected.
Emergency alert issued on phones in New York City: pic.twitter.com/0Ehwxq0nPf

— Gio Benitez (@GioBenitez) September 19, 2016
"I want to be very clear that this individual could be armed and dangerous," Mayor Bill de Blasio of New York said on Monday morning. "Anyone seeing him should call 911 immediately."
Mr. de Blasio would not go into detail about why Mr. Khan was wanted, but he said finding him was critical to the safety of the city.
"What we do know is we need to get this guy I right away," he said.
Gov. Andrew M. Cuomo, who had said on Sunday that the attack did not appear to have a link to international terrorism, said new evidence might change that thinking.
"I would not be surprised if we did have a foreign connection to the act," he said on CNN on Monday morning.
Mr. Rahami was born on January 23, 1988, in Afghanistan. His last known address was in Elizabeth, N.J. He is described as about 5' 6" tall and weighs approximately 200 pounds. Mr. Rahami has brown hair, brown eyes, and brown facial hair.
New York Mayor Bill de Blasio told CNN's New Day that Rahami, a New Jersey resident of Afghan descent, is a naturalized U.S. citizen.
"This is someone who was likely involved in one way or another" with the Chelsea bombing, de Blasio said.
The explosion happened in Chelsea, Manhattan, on Saturday. An unexploded pressure-cooker device was also found four blocks away and was being analyzed by the FBI. Earlier Monday, a device found in a backpack near a train station in New Jersey exploded while a bomb squad robot was trying to disarm it, authorities said.
Here is the explosion in Elizabeth, NJ:
Also, five people were taken into custody and questioned last night in connection with the bombing, the AP reports:
Agents stopped "a vehicle of interest in the investigation" at 8:45 p.m. Sunday, according to FBI spokeswoman Kelly Langmesser
She wouldn't provide further details, but a government official and a law enforcement official who were briefed on the investigation said five people in the car were being questioned at an FBI building in lower Manhattan.
The officials spoke on condition of anonymity because they were not authorized to speak about the ongoing investigation.
Developing…