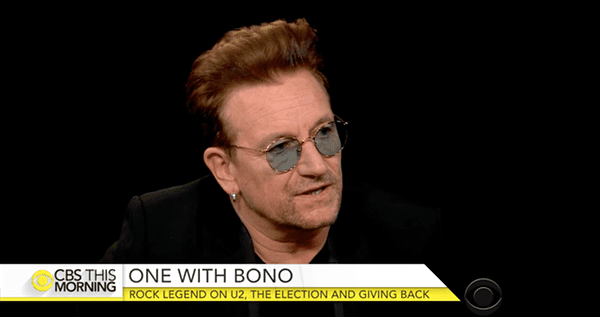 U2 lead singer and activist Bono spoke with Charlie Rose about the upcoming US presidential election and spelled out his opinion on the state of the race and on Donald Trump in particular.
Asked whether Trump is "a change agent because people are so unhappy about the status quo", Bono appeared to become physically revolted at the suggestion, letting out an audible gasp before putting his head down on Rose's famous round table.
"America is like the best idea the world ever came up with," Bono said, "but Donald Trump is potentially the worst idea that ever happened to America. Potentially."
He added, "He could destroy it because of what we're saying. America is not just a country…America is an idea."
The Irish rock star commented that he believes Trump "hijacked" the GOP and that he's "trying to hijack the idea of America." "I think it's bigger than all of us," Bono said, "this is really dangerous."
As for Trump's supporters, Bono said, "I would not diminish Trump's supporters or underestimate their angst."
Watch, below.