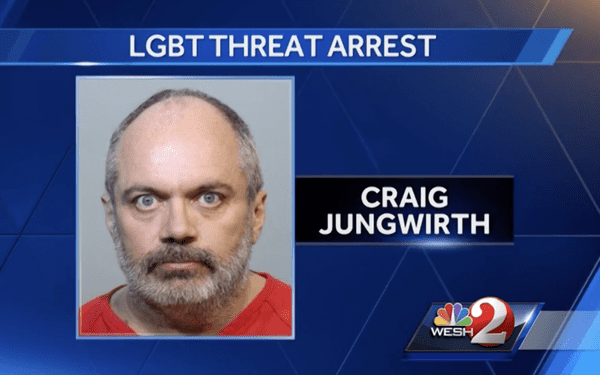 Craig Jungwirth, the south Florida man who is accused of having threatened an Orlando-style terrorist attack against the LGBT community over Labor Day, was in federal court on Friday.
Jungwirth is charged with making online threats, violating a federal law that prohibits "any communication containing any threat to kidnap any person or any threat to injure the person of another."
Wrote Jungwirth on Facebook, "If you losers thought the Pulse nightclub shooting was bad, wait until you see what I'm planning for Labor Day."
Jungwirth was scheduled to appear in court earlier this week but that hearing was cancelled after Jungwirth complained of chest pains and was taken to a hospital.
WESH reports on Jungwirth's day in court:
In his first court appearance Thursday afternoon, Jungwirth's attorney told federal Magistrate David Baker that he will ask for Jungwirth's release Monday on a pretrial bond. Prosecutors asked for that matter to be continued Thursday to give them time to get an FBI agent from South Florida to court Monday to provide testimony.
Before his arrest Saturday, Jungwirth had been staying with his mother at her southwest Orlando duplex. She was also at his Thursday afternoon court appearance. When asked by WESH 2 News if she was afraid of her son, she said, "No, no comment."
Jungwirth's sister, Shanna Berger, twice blew him kisses in court and said she was there to support him.
Speaking with WESH, Berger said of Jungwirth, "He's musically inclined, a mechanical engineer. A very caring person." She added, "He's very peaceful. He's not violent." Asked if he's capable of harming people, Berger replied, "No."
Jungwirth's mother declined to comment when she was seen leaving the courtroom.
Watch a news report from WESH here.
And below, watch comments from the Wilton Manors, Florida Police Department on Jungwirth's case.