2016 ELECTION. Trump speech proves that all that talk of a "new" Donald Trump was complete BS: "In the single most important speech of his presidential campaign — and with the eyes of the political world on him — Trump delivered an angry affirmation of the message that won him the Republican nomination: We are going to build a wall along our southern border, and Mexico is going to pay for it. He also repeatedly highlighted the criminal acts done by those in the country illegally and insisted it would never happen if he was elected president. The 10-point plan Trump outlined for dealing with the country's immigration problems was entirely overshadowed by the snarling and sarcastic way in which he delivered the speech."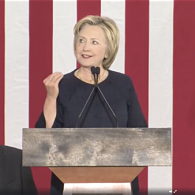 BABS FOR HILLARY.  Rufus Wainwright, Laverne Cox, Kathy Najimy, Cynthia Nixon, Andrew Rannels, Debra Messing, Michael Urie, and Jesse Tyler Ferguson are joining Barbra Streisand for a benefit for Hillary Clinton on September 9 in NYC at Cipriani.
WIKILEAKS. Julian Assange calls Hillary Clinton a "demon". "The American liberal press, in falling over themselves to defend Hillary Clinton, are erecting a demon that is going to put nooses around everyone's necks as soon as she wins the election, which is almost certainly what she's going to do."
CALIFORNIA. Legislature passes bill to protect LGBT students at private universities: "The California Legislature has approved a bill, authored by Senator Ricardo Lara (D-Bell Gardens) and sponsored by Equality California, that would require private universities to publicly disclose if they discriminate against students and staff based on their gender identity, gender expression, or sexual orientation. Senate Bill 1146 would require universities that are granted a Title IX exemption to notify the California Student Aid Commission and disseminate the information to students and staff."
NORTHERN IRELAND. Lifetime ban on gay men donated blood is eased: "The move means men whose last sexual contact with another man was more than 12 months ago will be free to donate blood so long as they meet the other donor criteria."
AUSTRALIA. Cattle-eating crocodile captured.
https://www.youtube.com/watch?v=assEz4kK7rE
MIDAIR SCARE. Hell's Kitchen hairdresser tries to open door on flight from JFK to Seattle. "Jordan Fragiacomo, 28, tried to open a rear exit door on an Alaska Airlines flight Monday after babbling incoherently and attempting to kiss two flight attendants, according to a police report. 'If you continue to restrain me, there's going to be problems,' Fragiacomo said at one point."
Vid from girl on @AlaskaAir flight from NYC to Seattle, delayed bc officials say a man tried to open a door mid-air pic.twitter.com/Ym38Hu0qCz

— Linzi Sheldon (@LinziKIRO7) August 29, 2016
AUSTRALIA. They got some new money down under and it's very pretty.
CHALICE. Transgender superhero created to fight HB2: "In protest of House Bill 2, Ssalefish Comics in Winston-Salem is introducing 'Alters,' where a costumed transgender vigilante named Chalice rips down bathroom signs in public places, replacing them with unisex signs. Chalice is the alias of Charlie Young, a male college student who is transitioning to female. "
#THISISTRANSGENDER. A new social media campaign from HRC.
https://www.youtube.com/watch?v=L9sQBTPD3mw
HEALTH. Alzheimer's treatment may be getting closer: "Alzheimer's disease has long been linked to disruption in the brain's immune system, but the latest research adds to evidence that inflammation in the brain is not so much caused by the disease, but is a driver of the disorder. Researchers at Southampton University studied tissues from healthy human brains and others affected by Alzheimer's disease. They found that Alzheimer's brains had more immune cells, known as microglia, than healthy brains."
SNEAK PEEK OF THE DAY. Scream Queens, Season 2.
https://www.youtube.com/watch?v=LPPzZUMOaHY
THIRSTY THURSDAY. Jason Derulo.
https://www.instagram.com/p/BJbDtbbDRVy/?taken-by=jasonderulo
https://www.instagram.com/p/BJdprrkjWGF/?taken-by=jasonderulo
https://www.instagram.com/p/BHu25DbD7x3/?taken-by=jasonderulo