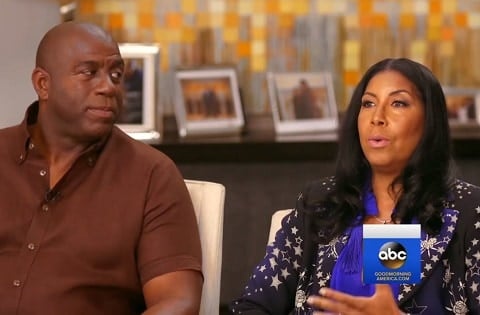 Magic and Cookie Johnson say they found it difficult to accept that their son EJ is gay.
Now 24 and starring on The Rich Kids of Beverly Hills," EJ came out in 2013.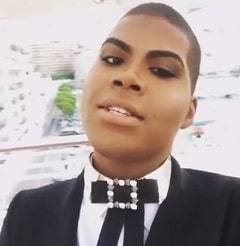 Speaking with Oprah Winfrey to promote her book Believing in Magic: My Story of Love, Overcoming Adversity, and Keeping the Faith, Cookie Johnson said it was hard for her to reconcile her religious beliefs with her son's sexuality.
"That was a very hard thing for me," she said. "That was a very, very hard thing for me. I tried everything, but finally I just said to myself, 'This child is innocent. He was like this when he was a baby, it can't be wrong. It can't be wrong.' I had to pray about it. This was one of those moments where I had to go directly to God and I prayed…and the answer I got back was love. And he said, you know, 'I give you all great gifts and the greatest of that gift is love.' And so, that's when I knew I could love my son and support him on who he was and I was okay with it."
Appearing with his wife on Good Morning America while on the promotion trail last week, Magic Johnson said "I had to come to realize that this is who he is, and he's going to be happy. And so why am I judging him? I'm his father, so I got to be the first one to say, 'It's OK and I love you. Now, how can I help you?'"
On Magic's HIV diagnosis, Cookie said:
"It scared me to death. I mean, I fell to my knees. We both fell on our knees and we started crying. I didn't have time to get mad about whatever happened, you know, or start asking questions. [My mind] went to 'He is possibly going to die.'"
Watch the interviews below.
(EJ Johnson image via Instagram)