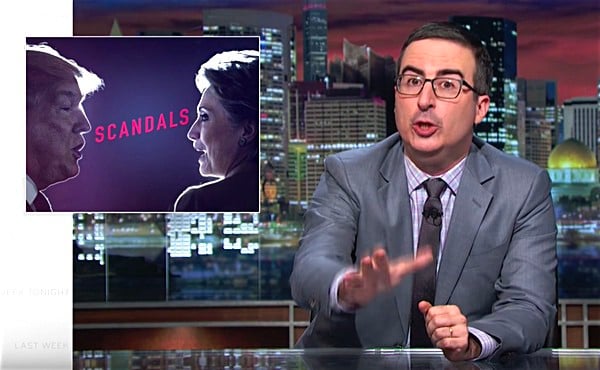 Ahead of tonight's first presidential debate, John Oliver compared Hillary Clinton and the "scandals" that have dogged her to Donald Trump's deceit and lies, finding Trump, aka "America's wealthiest hemorrhoid," to pose a far greater threat to the country.
Oliver started off by dubbing "The 2016 presidential election"  as "the electoral equivalent of seeing someone puking so you start puking and then someone else is puking and pretty soon everyone is puking 2016.'"
He then took us through the list of Hillary Clinton "scandals".
They include Whitewater, Benghazi, emails, the Clinton Foundation, and the Swiss File Transfer, which Oliver admits "I just made up right now," adding, "but the very fact that for a second, you kind of remembered it says something about the tone of coverage surrounding Clinton."
Adds Oliver:
"We've spent several frustrating weeks trawling through all the innuendo and exaggerations surrounding [Hillary's] email and foundation scandals, and the worst thing you can say is: 'They both look bad, but the harder you look, the less you actually find.' There's not nothing there; what is there is irritating rather than grossly nefarious. And this is where it's instructive to compare her to her opponent: Donald Trump, America's wealthiest hemorrhoid. Because if you are struggling with the idea of voting for Hillary because of all this you need to look a long hard look at Trump. If you are irritated by her lying, that is understandable. But he is quantifiably worse."
You can be "irritated" by Hillary's scandals, Oliver says, but you should be "f–king outraged" by Trump's.
Watch: