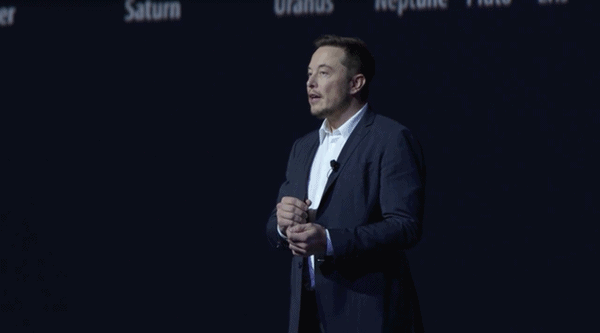 SpaceX founder and CEO Elon Musk has unveiled a video providing some tantalizing details of his plans for getting humans to Mars and beyond.
Musk provided details of his plans during a speech on Monday at the International Astronautical Congress (IAC) in Guadalajara, Mexico.
As Mashable puts it, Musk "envisions a world in which people could pay about $200,000 for a ticket to ride on a spaceship that would deliver them to their new homes on Mars in about 90 days under good conditions." He expects that around 1 million people would need to go to Mars in order to create a self-sustaining settlement.
During Tuesday's announcement, Musk spoke of the personal significance the Mars mission has for him:
"The main reason I'm personally accumulating assets is in order to fund this. So, I really don't have any other motivation for personally accumulating assets except to be able to make the biggest contribution I can to making life multi-planetary."
More on the details of Musk's plan via Mashable:
The company plans to use a huge rocket to launch Mars-bound spaceships filled with at least 100 people to orbit before landing the booster back on Earth and prepping it to launch again with very little turnaround time.
The rocket, once built would likely be the most powerful ever, producing 28.73 million pounds of thrust, far more than the Saturn V, the most powerful rocket flown to date.
The second launch would deliver a refueling ship to orbit, where it would fuel the Mars-bound human-carrying craft. Once fueled, the crewed ship will depart on its way to the red planet.
Goal is 100 people on each trip, eventually more https://t.co/kCtBLPbSg8 pic.twitter.com/wbXJ6AeWyl

— SpaceX (@SpaceX) September 27, 2016
Although SpaceX has yet to actually get anybody into space – and suffered a major setback when one of its rockets exploded just before an engine test – the company has plans to launch astronauts to the International Space Station for NASA in the next two years.
In the immediate future, Musk has plans to send an uncrewed mission to Mars by 2018 and other ships every two years after that.
Musk added that he hopes his speech will help inspire the international community to work toward the goal of sending humans to Mars.
Watch the video explaining SpaceX's plans, along with Musk's full announcement, below.