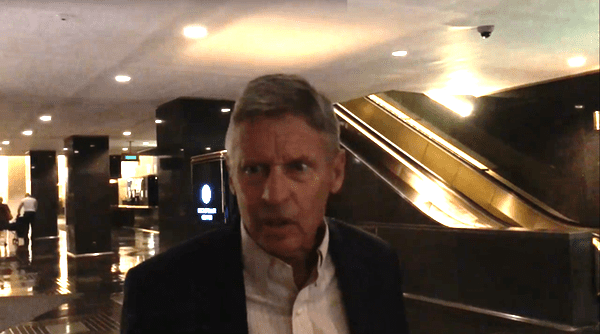 Libertarian presidential nominee Gary Johnson appeared incoherent and confused when questioned in the lobby of Rockefeller Center immediately following his "What is Aleppo?" interview on Morning Joe.
As previously reported, when asked by journalist Mike Barnicle about the situation in Aleppo, Johnson responded with a question of his own: "What is Aleppo?"
That left Barnicle and anyone watching stunned. "You're kidding," Barnicle replied.
After Johnson explained that he wasn't kidding, Barnicle explained, "Aleppo is in Syria. It's the epicenter of the refugee crisis."
Following that interview, Bloomberg Politics reporters and With All Due Respect host Mark Halperin got a hold of Johnson to try and get some clarification from Johnson.
Halperin asked Johnson, "Is it a gotcha thing?…In retrospect do you know it?" It being Aleppo.
Johnson's response was meandering and not entirely cogent:
"Well, when you recognize what's going on in Syria, when you recognize that Aleppo is in the kind of the epicenter–Aleppo! Not knowing that there's a city in between the two forces really at the epicenter of the–but not remembering or identifying that that's Aleppo, guilty."
Halperin again tried for clarification: "But in retrospect, is this a town you know?"
Johnson dodged that question and instead went into a story about a similar incident that happened to him when he was running for Governor of New Mexico.
Johnson added, "I'm incredibly frustrated with myself." Johnson also conceded that his "What is Aleppo?" comment should be considered a big flap. "I understand the significance," Johnson said. "No one is taking this more seriously than me. I feel horrible."
As for what will happen next, Johnson told Halperin, "I have to get smarter. And that's just part of the process."
When asked if he has heard from his running mate Bill Weld following his Morning Joe appearance, Johsnon was confused. He asked Halperin,"Regarding?"
"This," Halperin replied.
Johnson didn't seem to get why he might have heard from Weld.