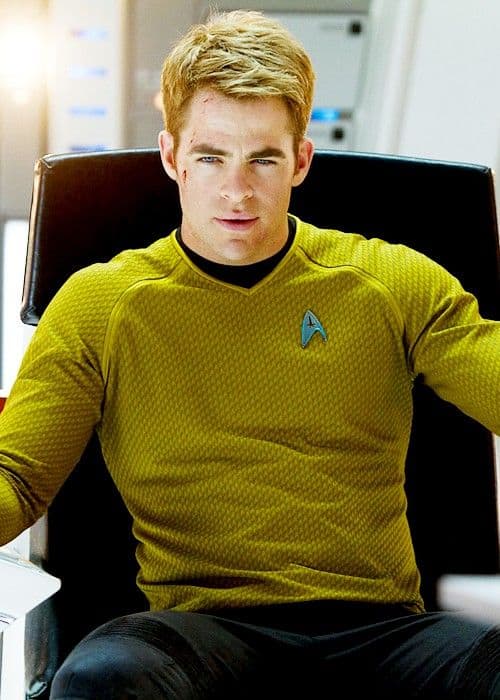 Chris Pine talks to The Hollywood Reporter about Star Trek Beyond's gay Sulu controversy in its September 16 issue.
Said Pine to the magazine:
"Amen, man. It's about f—ing time. The fact that there's still a conversation about it means that there's still room to go in terms of it being normalized….My only rebuttal to George Takei — no matter what kind of creative differences he had about Sulu being gay, and I can understand his creative differences — is the fact that our job is to make people feel less alone. If there's one kid in Middle America who feels any amount of self-loathing because he feels different, or is being bullied because he feels different or looks different or sounds different, if our film can give him solace and make him or her feel less alone, then abso-effin-loutely we should do it all the time, every day of the week."
After news emerged in July that John Cho's Sulu would be revealed as gay, George Takei, who played Mr. Sulu in the original series, called it a "really unfortunate" turn of events.
Takei told The Hollywood Reporter that he had tried to convince Pegg and director Justin Lin that it was a bad idea.
"I told him, 'Be imaginative and create a character who has a history of being gay, rather than Sulu, who had been straight all this time, suddenly being revealed as being closeted," said Takei.
Takei's statements caused immediate reaction from screenwriter Simon Pegg, who also plays Scotty, who said he "respectfully disagreed" with Takei, and Zachary Quinto, who plays Spock, who said he was "disappointed" by Takei's reaction.
Pegg expressed sympathy with Takei's sentiment that mainstream gay heroes were belatedly coming to the big screen, but rejected the idea that this meant a new character needed creating.
"He's right, it is unfortunate, it's unfortunate that the screen version of the most inclusive, tolerant universe in science fiction hasn't featured an LGBT character until now. We could have introduced a new gay character, but he or she would have been primarily defined by their sexuality, seen as the 'gay character', rather than simply for who they are, and isn't that tokenism?"
Pegg continued: "Justin Lin, Doug Jung and I loved the idea of it being someone we already knew because the audience have a pre-existing opinion of that character as a human being, unaffected by any prejudice. Their sexual orientation is just one of many personal aspects, not the defining characteristic. Also, the audience would infer that there has been an LGBT presence in the Trek Universe from the beginning (at least in the Kelvin timeline), that a gay hero isn't something new or strange. It's also important to note that at no point do we suggest that our Sulu was ever closeted, why would he need to be? It's just hasn't come up before."
Added Pegg: "The viewing audience weren't open minded enough at the time and it must have forced Roddenberry to modulate his innovation. His mantra was always 'infinite diversity in infinite combinations'. If he could have explored Sulu's sexuality with George, he no doubt would have. Roddenberry was a visionary and a pioneer but we choose our battles carefully."
Takei has since set the record straight about his thoughts:
Good morning from Montana! I've been here relaxing on vacation, but have noticed that many of you have been following the "gay Sulu" story and wanted to know why I'm being such a sourpuss. I'm writing to set the record "straight," if you will.
When the news first broke, I gave a lengthy telephone interview, but the headlines have been misleading. Apparently, controversy makes for better sales! Let me be clear: I am not disappointed that there is a gay character in Star Trek. On the contrary, as I made clear, I am delighted that the Star Trek franchise has addressed this issue, which is truly one of diversity. It is thrilling to know that future generations will not see LGBTs go wholly unrepresented in the Trek universe.
On the specific question of Sulu being gay, when I was first approached with the concept, I responded that I hoped instead that Gene Roddenberry's original characters and their backgrounds would be respected. How exciting it would be instead if a new hero might be created, whose story could be fleshed out from scratch, rather than reinvented. To me, this would have been even more impactful. While I understand that we are in an alternate timeline with the new Trek movies, for me it seemed less than necessary to tinker with an existing character in order to fulfill Gene's hope of a truly diverse Trek universe. And while I am flattered that the character of Sulu apparently was selected as an homage to me, this was never about me or what I wanted. It was about being true to Gene's vision and storytelling.
Gene had wanted long ago to include LGBT characters, and we spoke personally and specifically about the lack of them. Gene understandably felt constrained by the sensitivities of the time. Some fifty years ago, even TV's first interracial kiss, between Kirk and Uhura, caused our ratings to plummet as the show was censored across much of the South for that scene. Gene made a conscious decision to make the main characters heterosexual, and worked within those parameters to tell incredible stories that still challenged many cultural values of the time. So the lack of gay characters was not some oversight by him; it was a conscious decision with which he grappled. I loved Gene as a friend, and I respected his decision and the context under which he created these stories. On this 50th year anniversary of Star Trek, my hope was to honor his foresight and bravery, as well as his ability to create discussion and diversity despite these constraints.
But Star Trek has always pushed the boundaries and opened new opportunities for actors, including myself. I am eternally grateful to have been part of this incredible and continuing family. I wish John Cho well in the role I once played, and congratulate Simon Pegg on his daring and groundbreaking storytelling. While I would have gone with the development of a new character in this instance, I do fully understand and appreciate what they are doing—as ever, boldly going where no one has gone before. Star Trek will live long and prosper.