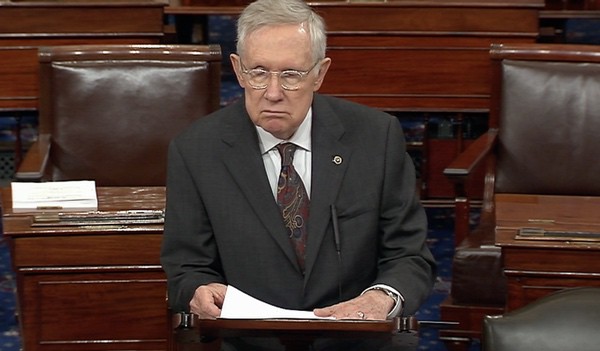 Citing a Kurt Eichenwald Newsweek article about the Trump organization's foreign business ties, Senator Harry Reid (D-NV) ripped into Donald Trump on the Senate floor on Thursday, calling him "a notorious con artist" only trying to help himself.
"If given the opportunity, Donald Trump will turn America into a big scam, just like Trump University," Reid said.
Reid then talked about the awful things the manager of Trump University has said about the company.
"Trump has been ripping off people for a long long time," Reid added. "The list of people cheated by Donald Trump is a mile long at least – glass company in New Jersey, a children's singing group, real estate brokers – plural, plumbers, painters, dishwashers and many, many more – they all got fleeced by this so-called billionaire Trump."
Reid said Trump hires lawyers to defend him in the scam lawsuits and often rips them off as well.
"He'll do anything to make a buck for himself….Let's be clear about Donald Trump. He's a spoiled brat, raised in plenty, who inherited a fortune and used his money to make more money and he did a lot of it by swindling working men and women. Why would he change as president? The answer is simple. Trump won't change. He's asking us to let him get rich scamming America."
Then Reid talked about what happened yesterday in Flint, Michigan:
"He goes to Flint, Michigan where people are desperate for help. He goes to an African American church and what does he do? He just starts ranting about how horrible Hillary Clinton is. It was so bad that the woman who runs the church had to come up and say 'stop, you're not here to do this.' And he stopped. And this morning he said there was obviously something wrong with her mentally."
Here's the video:
.@realDonaldTrump begins criticizing Clinton during remarks in Flint church, gets cut off by pastor. pic.twitter.com/P0odYUkXsD

— ABC News Politics (@ABCPolitics) September 14, 2016
Finally, Reid concludes:
"Trump is a human leech who will bleed the country and sit at his golf resort laughing at the money he has made, even though working people have been hurt and ruined."
Watch: