A new campaign from PFLAG Australia urges Australians to push lawmakers for a free vote on marriage equality in parliament and reject a plebiscite backed by Prime Minister Malcolm Turnbull because of its exorbitant cost.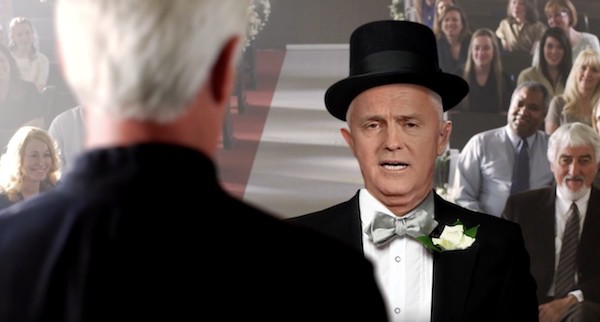 In a new ad, the group argues that $160 million, which is what the plebiscite is expected to cost, could be better spent on other things like teachers, nurses, and education.
The ad directs people to the makeitlaw.com.au webform which allows concerned citizens to write their federal representatives. So far 12,000 individuals have sent over 150,000 emails through makeitlaw.com.au, according to the group.
Said PFLAG spokesperson, Sharyn Faulkner:
"This week we were encouraged by the Nick Xenophon Team coming out firmly against a plebiscite but we still need to get Labor on board. The Government is spruiking a plebiscite strongly but we intend to be just as strong in rejecting it. We won't rest until the Senate vetoes a plebiscite and parliament gets back on track to a free vote. I thank all those Australians who have taken the time to write to their federal members and I urge them to ask their friends and family members to write too."
A first ad from the group, which showed Turnbull getting married to his plebiscite, will be shown on Sky TV from this weekend onwards.
Watch it below: