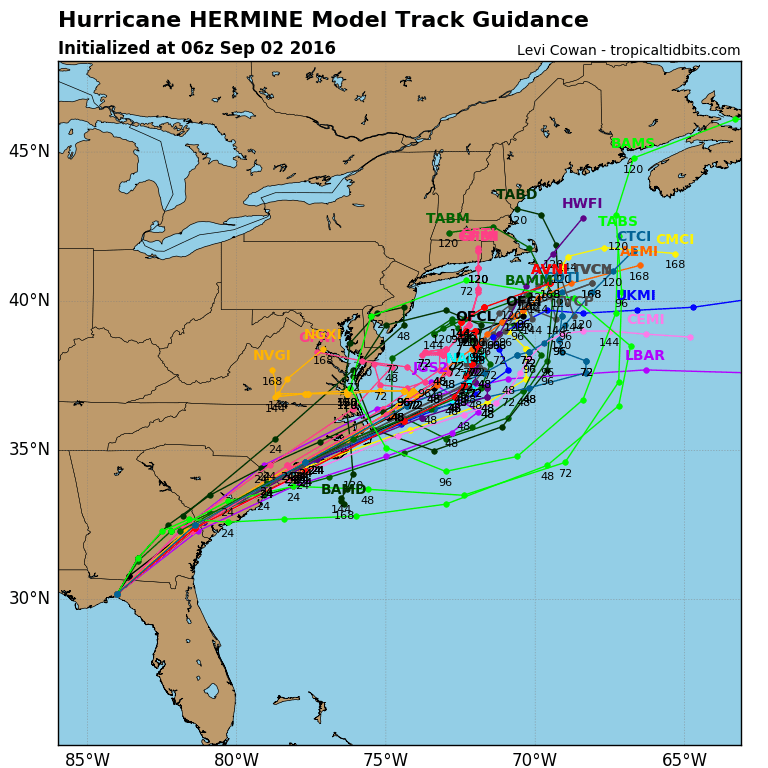 Hurricane Hermine made landfall in Florida last night, the first hurricane to do so since 2005. The system made landfall as a Category 1 storm and has weakened since moving over land toward Georgia. It is forecast to head over the coast of the Carolinas and emerge from the outer banks into the mid-Atlantic.
To interest of those of us living in the northeast is what it does after that, and from indications on most models, it's going to hang out here for a while:
Writes Phil at CapeCodWeather.Net:
Hermine will then turn northward and slow its forward speed, eventually stalling over the waters south of New England and east of the Mid-Atlantic. Remarkably, because it becomes blocked from the main steering currents, Hermine is then likely to sit and spin south of Nantucket for several days, perhaps lingering until the middle to end of the upcoming work week.
For now, it still appears as though the worst of the storm's wind and rain will stay offshore, south of the Cape and Islands, with the weather here resembling that of a prolonged moderate nor'easter.
However, having a tropical system so close by for so many days is rather disconcerting from a forecasting standpoint, so obviously continue to monitor the forecast! You can see on the hurricane "spaghetti plots" how Hermine stops moving south of the region
Have a wonderful Labor Day weekend, however the weather turns out to be.