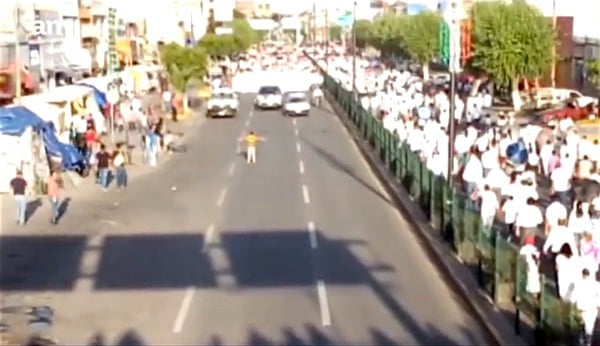 Here is video of the Mexican boy who placed himself in front of thousands of anti-gay marriage protesters in Celaya, Guanajuato Mexico over the weekend to try and stop the hate. The instantly iconic photograph ricocheted around the world.
The video shows that the boy was in the middle of the street for just a  few moments. And yes, his motivation was to stop the marchers.
Manuel Rodriguez, who shot the photo, told Buzzfeed Mexico that yes, the boy was doing it because his uncle Cesar is gay and he wanted to stop the hate:
"Several media outlets congregated on the bridge. I saw this little boy walking against the crowd, doing stop signals with his arms, and he called my attention. I decided to take the photograph. The crowd reached him and he was taken aside. The little boy continued on to the market. I got off the bridge quickly and I asked him if he was just playing or if he had a motive. Hearing those words from a boy who is about 12 years old, the way he expressed himself, really impressed me. I didn't think that the photograph would strike such a chord. In fact, I uploaded it to my personal profile to share it with my friends. I'm against this protest organized by the National Family Front, but as a journalist I cannot take a stance, so I uploaded it to my personal profile."
From there it was picked up by the Mexican publication Regeneracion.
The photo has gone viral internationally. Towleroad's post alone has been shared more than 33,000 times.
Watch:
https://www.youtube.com/watch?v=FBf1v2-TTRI