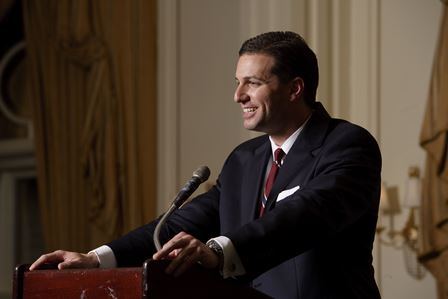 A Republican politician representing Louisiana's largest parish is being investigated by the FBI for allegedly having sexted a 17-year-old young man.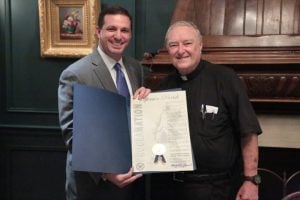 Jefferson Parish Presidenti Mike Yenni, who is married to a woman with a young daughter, reportedly met the teen at a function at the teen's Catholic high school. Yenni, 40, is himself an alumnus of a Louisiana Catholic high school though it is unclear if he attended the same school as the boy with whom he began a relationship.
According to the teen, Yenni was introduced to him by a mutual friend who was 19 at the time.
Three sources with direct knowledge told WWL-TV that FBI agents have interviewed at least four people about the explicit text messages between Yenni, 40, and a young man who was 17 at the time and is now 19, and collected the teen's cell phone, apparently to search it.
"We have been made aware of the allegations and are looking into it," Craig Betbeze, a spokesman for the FBI, said in a November email to the online publication NOLA Defender, which collaborated with WWL-TV on the reporting of this story. Betbeze later confirmed his statement to WWL-TV, but declined to comment further. The teen said his last contact with the FBI was in April.
The young man whom Yenni allegedly sexted, now 19, spoke to WWL-TV and said that at one point Yenni came to see him at a mall food court where he worked. The pair allegedly met in a bathroom and Yenni gave the young man a pair of designer underwear and also kissed him.
Text messaging between the pair got increasingly explicit, according to the teen, and Yenni told the young man he wanted him naked.
More from WWL-TV:
Days later, Yenni writes to ask the 17-year-old if he's worn the underwear Yenni bought him. Yenni says he wants to see him model it.
Then Yenni texts the teen to say he wants to perform a sex act on him that night.
The youth, who is openly gay and is now in college, said in an interview with WWL-TV that he wants to expose Yenni's behavior because he finds it disturbing.
While the youth was initially flattered and intrigued by Yenni's overtures, he said the texts and phone conversations began to make him uncomfortable, such as one proposing three-way sex with him and the 19-year-old mutual friend.
"He asked me to go with him to his house in Oxford (Mississippi)," the youth said. Records show Yenni owns an apartment there. "Also, the way he would describe the sexual things he wanted to do to me. And he asked me to be a secretary or assistant in his office; that way I could be with him and not be questioned."
Yenni, who was mayor of the city of Krenner at the time the sexts were reportedly sent, has refused to be interviewed on the subject.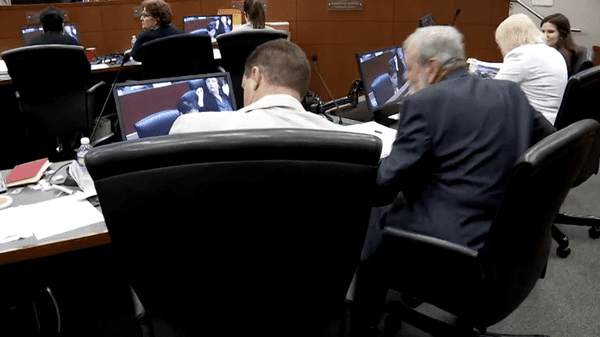 Yenni is not currently charged with a crime. In Louisiana, 17 is the age of consent and the young man says the pair never consummated their relationship. When the youth told Yenni at the outset of their texting that he was 17, Yenni reportedly responded, "I know the laws."
According to one expert, however, the FBI may charge him with a federal law that aims to protect children under 18 from "obscenity." This law prohibits "the transmission of any comment, request, suggestion, proposal, image, or other communication which is obscene or child pornography, knowing that the recipient of the communication is under 18 years of age, regardless of whether the maker of such communication placed the call or initiated the communication."
The messages Yenni sent to the young man were reportedly on a private phone and not one billed to the parish.
In the past, however, Yenni reportedly sent sexually explicit text messages to both men and women on a phone that was paid for with public funds:
The online newspaper NOLA Defender obtained alleged printouts of some of those texts – separate conversations with eight men and a woman that occurred over a three-week period spanning parts of December 2009 and January 2010.
The publication shared the text messages with WWL-TV, which sought to verify their authenticity by speaking with the people involved in the texts. Three of the nine people confirmed their accuracy. Two would not acknowledge sending the texts and refused to comment, while four could not be reached. WWL-TV was able to determine that Yenni's sexting partners in those conversations were all adults.
The three people who confirmed the explicit texts from 2009 and 2010 told WWL-TV they were angry that Yenni would carry on such intimate conversations with them on a phone that was paid for by the city and that used city servers to preserve messages.
Though a Republican since 1996, it is not clear whether Yenni has advocated any anti-LGBT positions during his tenure in Louisiana state politics.
Watch WWL-TV's report, below.