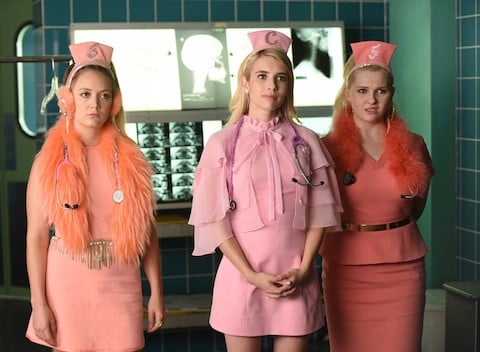 While this year's installment of American Horror Story appears to have exchanged all the sexy, campy drama for more legitimate backwoods scares, Ryan Murphy's other spooky series, Scream Queens, is embracing all its ludicrous charms. The second season transfers most of the cast from Wallace University to a hospital setting for a tale that's looking to be a little bit Grey's Anatomy, a little bit Monster Mash.
All those borderline tasteless zingers you've come to expect from a Ryan Murphy production are back in full-force, and — with a cast that includes newcomers John Stamos, Taylor Lautner and Jerry O'Connell — you know the show won't shy away from objectifying its male leads. (We all remember how Nick Jonas was put on display last season, right?) Even last night's premiere featured an extended Stamos shower scene.
We recommend taking 50 ccs of not getting too hung up on the details and rehashing the latest mystery in our recap below.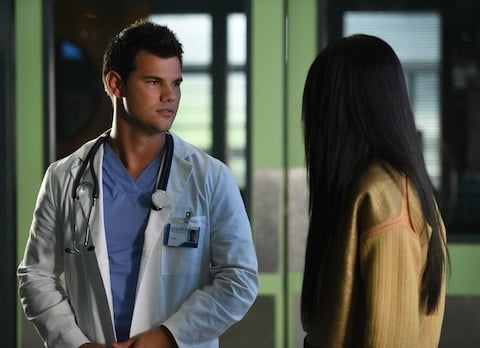 Of course, our story begins way back in 1985. This time, instead of a sorority party, it's a hospital's staff Halloween party. Dr. Jerry O'Connell and Nurse Thomas (played by the insufferable Laura Bell Bundy) are getting their party on when a very upset pregnant lady comes crashing, demanding they help her husband suffering from COPD. To placate the worried wife, Dr. O'Connell promises to bring her husband down to surgery and perform the life-saving operation himself. What a guy!
Instead, he and Nurse Thomas wheel the husband out to the conveniently situated swamp out back and dump the body in before covering it with O'Connell's green devil costume. Now, back to the Jell-O shots!
Fast-forward to present day, and a lot has changed for the survivors of the Wallace University murders. For starters, Dean Munsch (Jamie Lee Curtis) became a feminist icon and celebrity. She parlayed the honorary doctorate she was awarded after it was taken back from Bill Cosby into a trailblazing new medical research facility/hospital focused on curing the incurable. Ho boy.
A hospital needs a staff, and so Munsch heads out to headhunt, picking up Wallace alum Zayday (Keke Palmer, an actress that may never surpass her work in the Dolly Parton-Queen Latifah church choir opus Joyful Noise). Z is already in med school and actually passionate about medicine, but the promise of having the rest of her med school paid for by Munsch is enough to lure her into these shenanigans.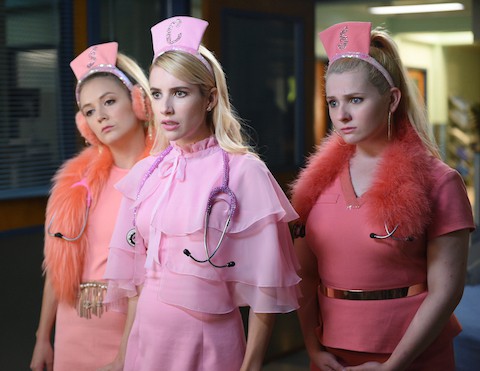 Let's be real though, we're here for the Chanels. When we last left our heinous trio of mean girls they were institutionalized and (maybe?) about to be offed by the Red Devil somehow? Don't dwell, because they've been exonerated, thanks to a Making A Murderer-esque documentary series called Entrap A Kappa Kappa. Everyone's favorite, Denise Hemphill (Niecy Nash), got some footage of Hester (Lea Michele) confessing to the whole thing. That means the Chanels are free to terrorize once again.
Sadly, it's not easy to bounce back from involvement in a slew of murders, so the Chanels take whatever work they can find. No. 5 (Abigail Breslin) is a receptionist at a dentist's office. No. 3 (Billie Lourd) is mopping up, um, run-off at a fertility clinic. And Chanel Prime (Emma Roberts) found her true calling drawing blood. Apparently, that's all the medical training the girls need for Munsch to recruit them into her medical practice. Whatever.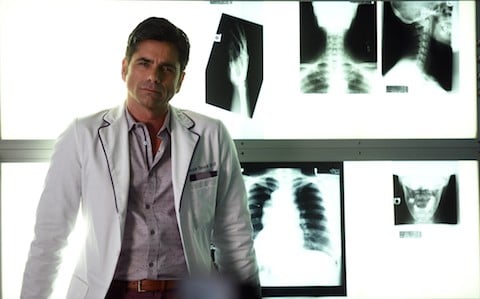 Rounding out the hospital staff are Dr. Brock Holt (Stamos) and Dr. Cassidy Cascade (Lautner). Despite having the porniest porn name to ever porn, the pair of handsome doctors appear to be actually qualified to work in a hospital. That doesn't mean there isn't anything strange about them. Cascade is ice cold to the touch (and also delivers lines like a frozen block of ice, but that might not be an intentional choice). Holt, on the other hand (pun intended), has a (possibly possessed) transplanted hand after mangling his in a Super Bowl-related garbage disposal accident.
Then there's my personal favorite new character, Nurse Hawful, that sees right through the Chanels' nonsense. I like the fact she doesn't suffer fools, but I LOVE the fact she's played by Kirstie Alley, looking bangin' and long overdue for a comeback.
The hospital's first case is pretty hairy. Literally. It's a woman who has gone full-blown Cousin It, played by SNL's Cecily Strong. The best solution Zayday can come up with is to give the girl a lobotomy to squelch the part of the brain that makes her hair grow. But it's actually Chanel Prime that realizes the girl's diet is to blame for all the testosterone fueling the hair growth. They switch her diet, give her some hormones and it works. It works a little too well, actually. All of the patient's hair falls out, requiring the Chanels to really leverage their strengths: A makeover!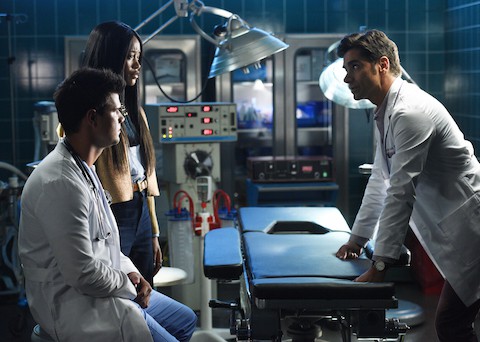 If the hospital's mantra is "There is no problem a wig can't fix," sign me up. The makeover lends itself to the best line of the night. It comes courtesy Chanel One, advising the patient on her new Tinder profile picture: "Side angle, good light, you're still 15 pounds from a New Jersey six."
Satisfied with her work, Chanel Prime and Chanel No. 3 head out for date night, leaving Chanel No. 5 to work the graveyard shift. All alone in the hydrotherapy tanks, Chanel No. 5 and the formerly hirsute patient are locked in, but they aren't alone. The Green Devil emerges, dripping neon green sludge, and hacks the patient's head clean off. He raises his blade to No. 5, but the episode ends before we learn her fate.
Look, no one's here for a tightly-paced mystery that's grounded in gritty reality and thoroughly thought through, so let's just take the most base criticism off the table. This is not prestige television. All that aside, I will say I feel less invested in this season's mystery. In season one, we knew there was a direct connection from the murderer to one of our protagonists right away. This feels a little more random and less compelling.
Something I am intrigued by, however, is the classic cinema monster motif hanging over the show. We've got a Swamp Monster. We had a "werewolf." We've got Holt's Frankensteined hand, and maybe Dr. Cascade is a vampire or an abominable snowman or something, who knows. I might be way off here, but I get the feeling the show is moving even further into the realm of fantasy, or at least making an homage to B-movie monsters, and I am here for it.
What did you guys think? Are you sticking around for this season?