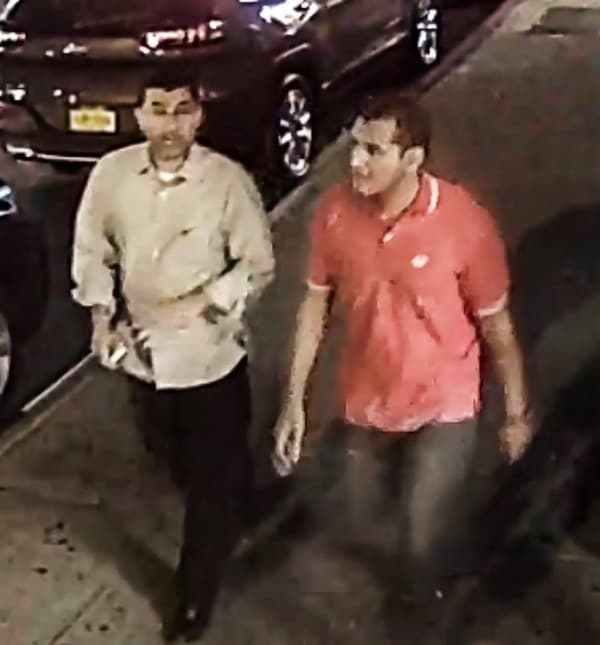 The FBI sent out an alert seeking two individuals in connection with the second pressure cooker bomb that was left on 27th street in Manhattan's Chelsea neighborhood the night of the bombing by Ahmad Khan Rahami on 23rd street.
Writes the FBI's New York office:
The FBI is asking for the public's assistance in locating these two unknown individuals.  Closed circuit television recordings indicate that these individuals allegedly located a piece of luggage on the sidewalk, removed an improvised explosive device from the luggage, and then left the vicinity leaving the device behind but taking the luggage. The image shown was taken on West 27th Street between 6th and 7th Avenues in Manhattan between 8 p.m. and 9 p.m., on Saturday, September 17, 2016, in the same hour that an explosive device had detonated on West 23rd Street.
The FBI is interested in speaking to these individuals and recovering the luggage.
#BREAKING Seen them? #FBI looking to locate these two for questioning on 27th St suitcase https://t.co/lUsgqiyt3s pic.twitter.com/P1rUFUkOau

— FBI New York (@NewYorkFBI) September 21, 2016
Ahmad Khan Rahami was arrested on Monday following a shootout with police after being directly linked to the bombs and another in Seaside Park, New Jersey.
DNA Info reported on September 19 that two men, described as "thieves", may have inadvertently disabled the second bomb:
The young men, who sources described as being well-dressed, opened the bag and took the bomb out, sources said, before placing the explosive into a garbage bag and walking away with the rolling suitcase.
"Once they picked up the bag, they seemed incredulous. They had actually picked this up off the street and they walked off with it," according to Robert Boyce, the NYPD's Chief of Detectives, who was responding to a question about DNAinfo New York's story.
"They look like they were two gentlemen just strolling up and down Seventh Avenue at the time," Boyce added.
Investigators believe they inadvertently disabled the explosive, sources said.
"It's difficult to say right now if they at all, inadvertently perhaps even, pulled a wire," Boyce said.
Since the bomb remained intact, it allowed investigators to examine the cellphone attached to the bomb and discover that it was connected to the family of Rahami.