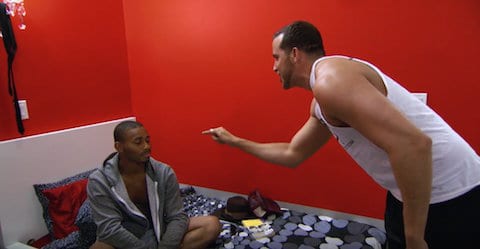 As much as I hate every single moment watching this sentient pile of jockstraps hurl themselves at Robert Sepulveda Jr., I have to admit that watching the boys in the house start to turn against each other this week was oddly satisfying. Much in the same way I watch Real Housewives for the bloodsport of it all, watching the manicured claws come out added a desperately needed dose of drama.
That doesn't mean any of the characters have made themselves more likable or compelling. Oh, no. Quite the opposite, in fact.
Let's start with Chad. He's the weasel-faced lech that allegedly made a move on another guy last week. He's fresh off his near-elimination and boo-hooing in the house, ready to cry himself to sleep in his formalwear. I get how stressful the reality-TV production schedule could be and how out of your element you get and how upsetting it can be, but, um, get it together, bro. You're still here.
The next morning Lance shows up at the house to play a little game with the guys. Now, I'm not entirely sure what the point of any of this is, but they're going to play a game about the five senses and the luck of the draw. Basically, each dude picks a card (any card) and it has one of the five senses on it. Then, the guys with the "taste" cards and the guys with "touch" cards get to go on dates. It is honestly the least exciting, fun, interesting or logical game I could ever imagine. Does it even actually count as a "game," per se? What did I just watch? Clearly, no one got the common sense card.
The "touch" boys get their date first, and it goes to Justin (the Frankie Grande knock-off) and Sam (the sweaty bully that yelled at Robby to fix his dress in episode one). They're doing something called acrobatic yoga with Robert, which is honestly just like playing with a toddler, I guess. You just take turns playing airplane, balancing the guy on your feet as you lay on your back. Very cool, sexy date. Very into acroyo-play.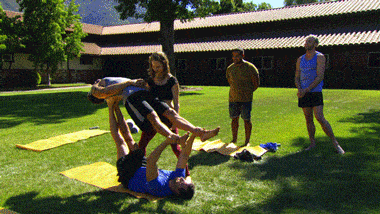 Sam is predictably terrible and sweaty at this. At one point he actually drops Robert, which I believe takes more effort than doing these moves properly. His one-on-one time with Robert is equally clumsy and sweaty. Robert wants to pry Sam about what's going on with Dillon and the resulting conversation is tense and sweaty. Sam is a sweaty guy, both physically and, like, spiritually.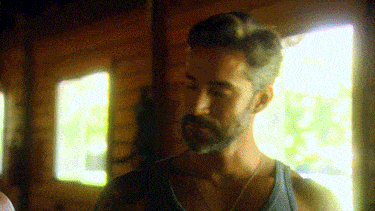 Justin has an easier time giving Robert an acrobatic yo-job, but their alone time is surprisingly awkward. All that chemistry they had at the perfume place seems to have evaporated into a wisp of Chanel No. 5. Instead, they amble around a stable. I thought things couldn't get more unoriginal than when Robert asks Justin what he would name his horse and Justin says, no lie, "Black Beauty." But! Then! Justin asks Robert what he would name his horse, and Robert says BLACK BEAUTY AS WELL. I would've given anything for a stampede, honestly. I hope they both hop on their horses and ride themselves back to Garbage Town where they belong.
The other group date is at a winery with Chad, Dillon, Paul and Danique. Now, according to my theory, in which the guys are being eliminated in descending order of body fat percentage, Danique is on the chopping block. It's a real shame, because the more camera time they give this boy, the more I start to like him. He's got chutzpah. He's got moxie. He's got a personality. He's also got pretty lousy luck in love, which makes me want to pull for him even more. Sadly, it's pretty clear during his time with Robert that these guys aren't a match.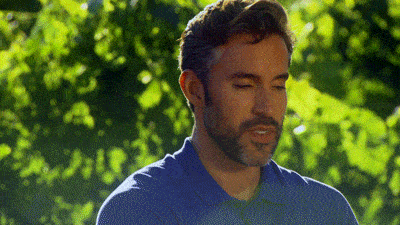 Chad and Paul make a better impression, but it's Dillon who has the most memorable exchange. The guy is practically throwing himself at Robert. He's so thirsty, I'm half-expecting him to turn into dust at any given moment. Robert tries to feel him out after that weird rant Dillon went on last week, but Dillon completely misreads the moment and goes in for a kiss that is so, so poorly-timed and inappropriate. It was cringe-worthy. Robert didn't yell "I need an adult," exactly, but he was blinking "S.O.S." in Morse code, I think.
Paul gets the idea to invite Robert back to the house where everyone is already deep in the bottle and simmering in the hot tub. Robert asks to see Paul's bedroom, which sounds scandalous, but really he just ends up listening to Paul drone on about his dead partner again. Sorry if that's insensitive (it is), but like, as a viewer, I've heard this story like three times already. We get it! The big takeaway here is that Robert and Paul kiss, and it's, um, more "passionate" than the kiss Robert had with Justin in so much as their tongues are actually visible slapping against each other outside their mouths. Hey, I love watching dudes makeout. Love it. But this was nauseating. In the immortal words of Valerie Cherish, "I don't want to see that!"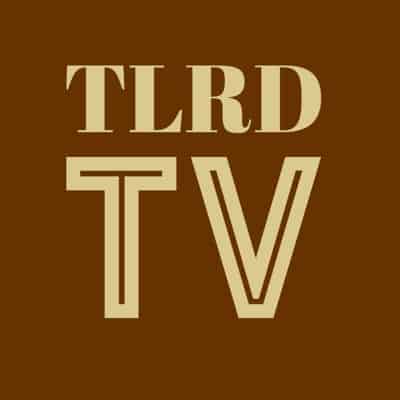 Dillon is frantic in his pursuit to right his wrong with Robert, but he just keeps making things worse. He scampers into the house to throw on his swim trunks, obviously trying to set a thirst trap, but then he pulls Robert over by the bar, away from all the fun in the hot tub. Once "alone" Dillon unloads some Lady Macbeth-level paranoia about the other guys in the house, especially Sam. It's all very … animated. The guys spot the frenzy from across the patio and Sam knows he's talking smack.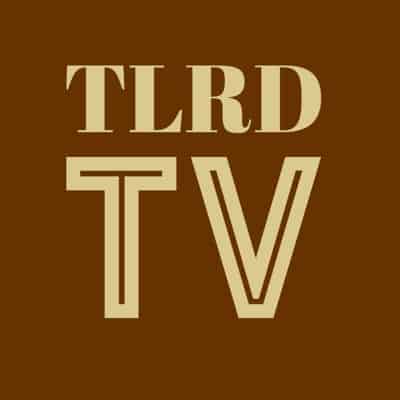 That's when Sam unleashes the Kraken that apparently was living deep within him, and it essentially destroys all the good vibes in the hot tub. Justin attempts to talk some sense into Sam, but to no avail. Then Chad chimes in, and that really pushes Sam over the edge. Robby, bless him, is just sitting in the hot tub, sipping on his chardonnay or whatever; he's not egging anybody on, but he's also not trying to clean up this mess. He knows what he's doing, and I sort of love him for it.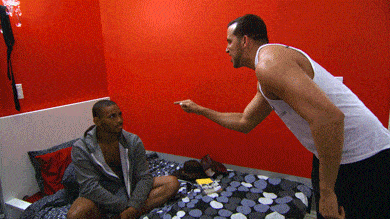 As Dillon continues to sputter and flail at Robert, Prince Charming is eyeing the exit. He leaves for the night just as Sam goes nuclear. Sam chases Dillon up the stairs, yells in his face, calls him a sheep, a snake and a little b*tch and then spits in his face. That's some trashy nonsense, even for reality TV. The last time I remember someone being legit spit on was on Flavor of Love, that's how trashy it is. It's Flavor Flav trashy. And with that, Sam packs his bags and leaves. (For some reason this whole exchange is very triggering for Justin who is seen just wandering around the house in tears. Danique, meanwhile, is still my favorite, drinking out of a comically large wine glass as this all unfolds.)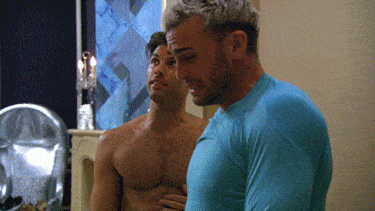 Before the black tie affair, Lance Bass sits down Robert to tell him what happened with Sam. Either Robert is already decided on Justin or Paul and doesn't care, or he and Lance Bass just loaded themselves up on Percocet before this conversation, because, for the most dramatic moment thus far on the season, neither the host nor the Prince seem capable of producing a single emotional reaction to the news.
Most of the black tie affair is pretty predictable. Paul, Chad, Robby, Eric and Justin are all safe. Robert calls on Brandon and hilariously tells him that he forgot he was even here. (Likewise, buddy). That means it's down to Dillon — whom it seems Robert doesn't even like as a person and has repeatedly been called out for specific actions he's taken that have upset Robert — and Danique.
So, obviously, he cuts Dillon loose for being a dramatic pot-stirrer and bad judge of when to kiss someone.
Just kidding! He eliminates Danique, the last remaining guy who wouldn't take his shirt off by the pool.
Next week there's more kissing, but, this time, it's personal horizontal! Can I get Danique's giant wine glass now that he's not using it anymore? I'm going to need it.
What did you think of this episode?