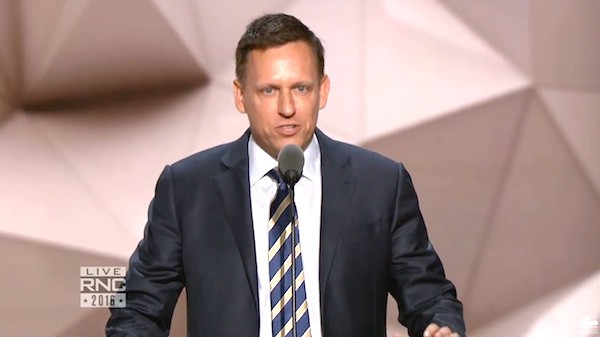 Peter Thiel, the Paypal billionaire who brought down Gawker.com for outing him, and told the Republican National Convention that he's "proud" to be gay, is telling friends that Donald Trump promised to nominate him to the Supreme Court.
Trump "deeply loves Peter Thiel," and people in the real estate mogul's inner circle are talking about Thiel as a Supreme Court nominee, a separate source close to Trump told The Huffington Post. That source, who has not spoken to Trump directly about Thiel being nominated to the Court, cautioned that Trump's offers often fail to materialize in real life.
It's not clear whether Trump has indeed offered to nominate Thiel ― only that Thiel has said Trump would nominate him and that Trump's team has discussed Thiel as a possible nominee. Both sources requested anonymity, given that Trump and Thiel have each demonstrated a willingness to seek revenge against parties they feel have wronged them. In Thiel's case, he secretly financed lawsuits againstGawker.com with the intention of destroying the publication. He succeeded, and his role in the assault was only revealed in the final stages.
Trump's and Thiel's spokespeople are both saying it's baloney:
Trump's press secretary, Hope Hicks, denied that Thiel had been offered a seat on the Supreme Court or that the campaign was discussing the idea. "There is absolutely no truth to this whatsoever," she told HuffPost.
"Peter hasn't had any conversations about a Supreme Court nomination and has no interest in the job," said Thiel spokesman Jeremiah Hall.
(h/t jmg)