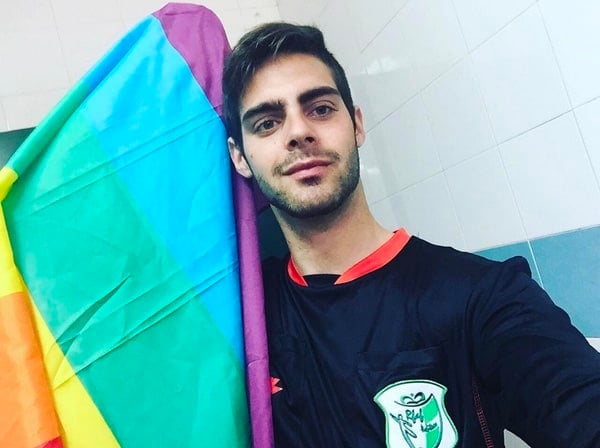 Jesús Tomillero, the first openly gay football referee in Spain, who quit last May because of homophobic abuse from fans, changed his mind and returned to work.
Unfortunately, he immediately began receiving anti-gay threats, the Guardian reports:
Jesús Tomillero, 21, was refereeing a game between CD Lasalle and Atlético Zabal in Andalusía's second division on Saturday when a Lasalle supporter told him to "get off for being gay" after he awarded a penalty to Zabal.
The game was stopped and the man was removed but he managed to get back in and shout "You f**king faggot" at Tomillero.
Following the match – his second since returning – the referee started getting death threats on social media. "You son of a bitch. You messed with the club. We'll kill you with AIDS, you faggot," read one.
Another message, featuring a photograph of a handgun and bullets, said: "Not long left to live, faggot."
Tomillero said that the threats began after he posted about the match on social media.
He now has 24-hour security protecting him.
Tomillero told the paper: "I go the first one about three o'clock [Monday] afternoon. It said: 'Reporting this was a mistake, Jesús. The boss has put a price on your head.' There was a picture of a gun and a car and it said: 'Get ready for what's coming, faggot.'"
It's unclear if Tomillero will stay in the game or decide to hang up his uniform once and for all.