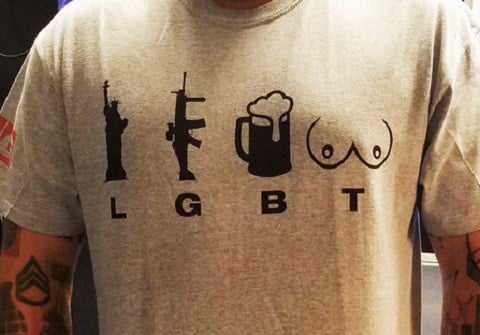 Unhinged right wing conspiracy theorist Alex Jones and his friends at Infowars are offering for sale a charming t-shirt (above), the reverse of which bears an American flag and the message "The Most Patriotic Way To Say F*ck You!"
The site boasts that "with every purchase, a social justice warrior cries."
The description of the shirt reads, "LIBERTY, GUNS, BEER, and TITS. Say it 5 times fast."
Infowars 'reporter' Joe Biggs has taken to Twitter to relish in the attention the shirt, which he created, has gotten him.
Thanks for the free publicity! https://t.co/QULyDDJ98G

— Joe Biggs (@Rambobiggs) August 30, 2016
My LGBT shirt is now considered to be the most homophobic Tshirt ever. Get it here at https://t.co/pSMI5StuLs pic.twitter.com/k9R6DoCq22

— Joe Biggs (@Rambobiggs) August 30, 2016
Other t-shirts on sale include this one…
Check out the new #Killary shirt from @PE_designs and use promo code (Biggs) for 10% off. check out @TacOffensive pic.twitter.com/7qKox8t7YO

— Joe Biggs (@Rambobiggs) August 31, 2016
…and these fine examples of mature political discourse.
Don't forget, this fuckers still in office and will be around for some time. Show your utter disgust in style.

Ge… pic.twitter.com/O4ZGQNnFaU

— PoliticallyErect (@PE_designs) August 31, 2016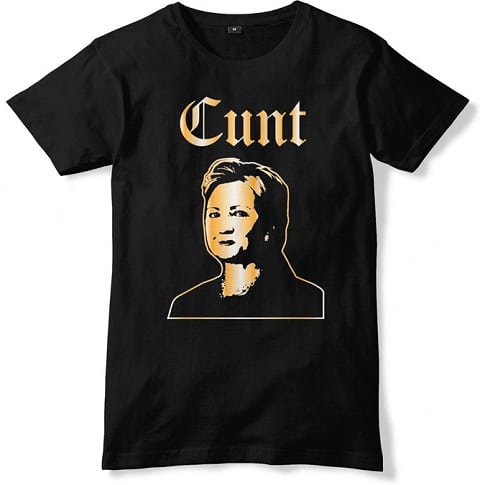 InfoWars' anti-LGBT t-shirt debuted just days after the Donald Trump campaign started selling LGBTQ for Trump t-shirts.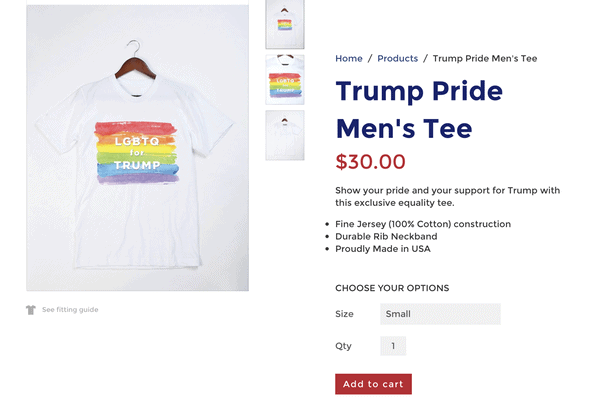 And Trump and InfoWars' Alex Jones have been known to have a close relationship. Trump has appeared on Jones' show and, according to Media Matters, has talked personally with Jones in recent weeks.
BREAKING: Alex Jones says that he personally has talked to Trump in recent weeks https://t.co/D2GJMFSC9O pic.twitter.com/IiexGYwPBD

— Media Matters (@mmfa) August 31, 2016
[h/t JMG]