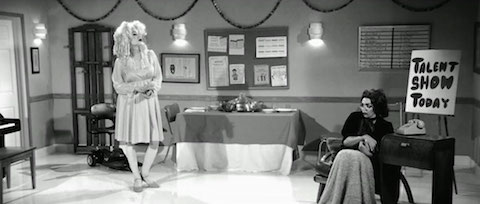 Y'all, I am SHOOK. Last night's episodes of RuPaul's Drag Race All Stars 2 was a rollercoaster of emotion, including one of the most hilarious performances in Drag Race herstory, an innovative runway challenge and a shocking elimination. Plus, a surprise twist ending!
This episode had it all! Let's discuss!
Still reeling from Ginger's exit last week, the ladies scuttle into the work room, and it's quickly clear that Roxxxy and Phi Phi are not pleased with Alyssa's decision to keep Katya. I still don't understand why they are so convinced that somehow the winner's completely subjective assessment of which queen got the harshest critique from the judges on any individual week (which in itself is already not a science) is somehow a much more pure measure of who deserves to win this competition. It's completely ludicrous, but Phi Phi will not let it go. Alaska stays pretty quiet throughout the conversation, and Detox disagrees but gets where Alyssa was coming from.
Luckily we don't waste too much of our time rehashing. Instead, we skip the mini-challenge and go right to the maxi. The girls are going to be working in pairs to create "shequels" to some camp classics. Alaska and Alyssa will continue the story of What Ever Happened to Baby Jane? with Wha' Ha' Happened To Baby JJ? Phi Phi and Roxxxy will take the tale of Nomi Malone to DIFFERENT! PLACES! with Showsquirrels. And, finally, Detox and Katya are lusty zombie ladies in Grace & Frankie, I mean Velma & Weezy. (Totally random aside: The queens are able to use wigs from Weaven Steven, whom I remember from an appearance on my favorite cycle of America's Next Top Model where all the models wore hair dresses, and Weaven Steven looked like a total nightmare.)
The first pair to film with Michelle and Toddrick is Katya and Detox. It takes a moment for Katya to find her groove, but she gets there, thanks to some sage acting advice from Toddrick: "One of the first rules of acting is reacting to the other people." Slow down there, James Lipton, I'm trying to take notes!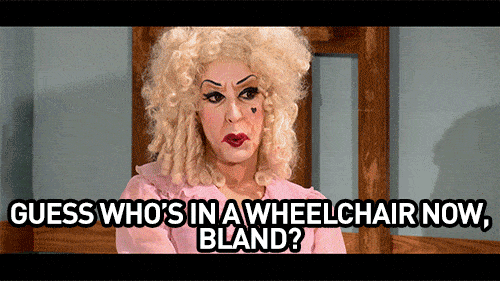 Next up, Alaska and Alyssa, and already this looks amazing. Alaska is crushing it, but Alyssa is acting bizarre. Not her usual charming bizarre, just inexplicable. She's trying to make choices with her character, but they mostly just read as whispering. Not great.
Of the last pair, Phi far outshines Roxxxy (a low bar, I know). Phi, to her credit, painted her face to look precisely what I imagine Elizabeth Berkeley would look like rode hard and put away wet after all these years. In other words, she aged Nomi perfectly. Roxxxy on the other hand struggles to just read basic English words, completely failing to pronounce "sash" without an assist from Michelle.
The resulting videos are stronger than these kinds of things have been in the past. Wha Ha Happened in particular is riotously funny, thanks to Alaska. Even Showsquirrels was pretty entertaining, though I think that sketch had the best moments baked into the writing. Velma & Weezy felt the dullest of the three (and also the only one not to feature a cameo from the Queen of Bounce, Big Freedia — coincidence?).
The runway called for two-looks-in-one, inspired by Violet Chachki's memorable plaid transformation moment. The judges call out Roxxxy and Katya's performance shortcomings, as well as Katya's runway look. Alyssa's performance and her runway ensemble are both called into question by Michelle, but Carson steps in and tells her that he doesn't care, because Alyssa is so likable. (There is nothing I like better than a reaction shot of Michelle Visage when someone undermines her authority on the judging panel.) In the end, Ru gives top honors to Alaska and Phi Phi, and she places Roxxxy, Katya and Alyssa in the bottom.
Phi Phi doesn't even bother meeting with the ladies up for elimination, and, honestly, it's not like Alaska gets a lot of insight from their chats. Alaska wins the lip sync and surprisingly sends Alyssa packing.
But! Twist! It doesn't end there. We see the remaining girls head back to the work room to read Alyssa's farewell message. They start gossiping about Alyssa, and Phi really piles on. But just when she's like "AND ANOTHER THING ABOUT ALYSSA!" the mirror lights up revealing Alyssa, Ginger, Tatianna and Coco standing behind it. Looks like it's time to truly bring back Ru's girls.
Let's break down where the ladies stand in our rankings:
1. Calling Alaska the Dustin Hoffman of queens acting is an understatement. She's the Meryl Streep. She's the John Malkovich. She's the f*cking Bette Davis. Every beat of her performance was note-perfect. I could watch her entrance on that scooter on loop forever. Even beyond that, I was in stitches every time she was on screen. Her transformation might not have been as dramatic on the runway (her initial ensemble wasn't so much a lewk as it was a cover up for the reveal), but it was so worth it for the appearance Lil' Poundcake. I honestly screamed. Screamed. I've watched her runway walk at least five times and laughed the whole time with each viewing. I do NOT understand her choice for the elimination other than some blind adherence to the critique-of-week, which is lame.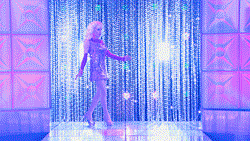 2. Maybe it's strange for me to still put Katya so high in this week's rankings. In fairness, Detox may have outperformed Katya cumulatively thus far in the competition. The thing is, I don't think Detox can win this. I don't think Detox will surge and take the crown. But I do think Katya could. I agree with the judges that her garment didn't really transform, but her Satanic twist was a delight. It's the kind of wink-wink that RuPaul rewards.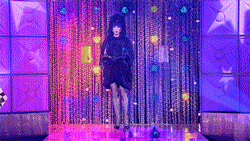 3. I don' t know, Detox, I feel like an "Asian-inspired" look like this is already problematic, but, on this show, boy, does it open up the floor for a lot of lazy, lazy puns. Beyond that, Detox did a decent job in the challenge, but I didn't find her two-for-one look to be that much of a showstopper. I expected something so much more inventive here. Be better, Detox. Be better, everyone.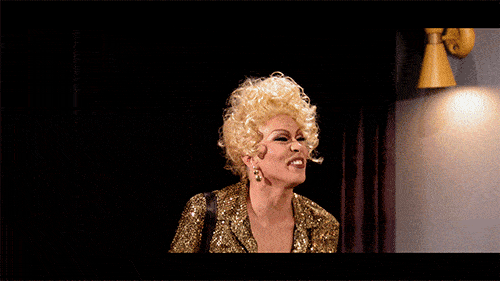 4. Maybe I've been a bit of a Phi Phi apologist the last few weeks, but honestly, compared to Roxxxy, I feel she is the lesser of the two evils. Maybe it's the edit, maybe she's being outshone by her far more charismatic and likable competition, but she officially squandered whatever goodwill she may have earned thus far tonight with her unrelenting harping about "changing the game."  All that aside, I think her acting was better than fine, and her transformation on the runway was greater than the sum of its parts. That lip synch was lip-sunk from the jump-off when she decided she was going to give us a totally earnest performance of the iconic Carrie Bradshaw "fashion roadkill" soundtrack, Cheryl Lynn's "Got To Be Real." Yawn. Pass.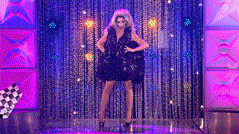 5. I've been saying it for weeks, and it pains me to be on same side of herstory as Phi Phi, but Alyssa really struggles to be funny, like, on purpose. And look! I love Alyssa! I do! I would pay to see her! I would drive cross-country with her! I would split a Fire Island share! But when she tries to be intentionally funny, it's just … strange. Michelle was right to call it out on the runway. I still don't think she belonged in the bottom, let alone eliminated tonight. Roxxxy's and Katya's spots felt earned, even if it would've been a less dramatic face-off. Honestly, given the twist ending tonight, I think Alyssa has the strongest chance of coming back and maybe even winning this whole damn thing. A preview for next week (the only reason to watch television's least exciting circle jerk, Finding Prince Charming, is to catch previews for All Stars) alludes to lip synching for a chance to return. Alyssa's got that in the bag.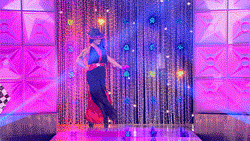 6. Roxxxy proved once again exactly why she cannot be America's Drag Superstar, let alone an All Star champion: She cannot act. She can't! And it's not like she needs to become a master actress. This isn't Boyhood (which Ru would definitely remake and call Gurlhood). I mean, take an improv class. Something. She knew this would be an issue. I will say that I think, judging the garment alone, Roxxxy had the most successful two-for-one lewk. Then again, I'm a sucker for a Selena-inspired jumpsuit, always. I just cannot take her seriously as a contender.
How would you rank the queens?