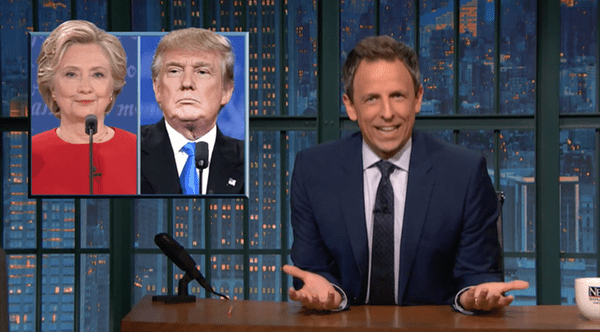 Seth Meyers took a closer look at the first presidential debate between Hillary Clinton and Donald Trump last night, examining the expectations that led up to the political prize fight and also how each candidate faired on stage.
Meyers skewered Trump for being "so unprepared" he couldn't even meet the lowest of bars set for him: stand still for 90 minutes. He also "looked like he maybe forgot Hillary's name," at one point, Meyers said, referring to the moment in the debate when Trump called Clinton 'Secretary Clinton' before awkwardly gesturing towards her and asking, 'is that okay?'
On Hillary's reaction to Trump saying he has the better temperament of the two candidates — she exclaimed, "Woo! Okay!" and then danced a little while giggling to herself — Meyers quipped, "Look at that. That's how an aunt shimmies when she hears 'Single Ladies' at a wedding."
Watch Meyers recap last night's events, below.