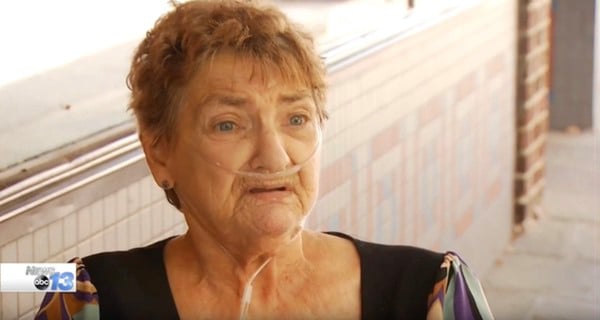 69-year-old Shirley Teeter was punched in the face on Monday by a Donald Trump deplorable at a rally in Asheville, North Carolina.
Teeter lives downtown and went to protest against the Republican candidate during his rally at the U.S. Cellular Center, where 7,000 attended and hundreds more protested. She has chronic obstructive pulmonary disease and relies on an oxygen tank to help breathe, and after the punch Teter ended up in the hospital until 2 a.m. Tuesday, she said.
"People need to know what state of agitation he puts people in," she said of Trump.
The Trump campaign did not respond to questions Tuesday about the incident with Teter or other violent encounters between protesters and supporters caught on video or reported by witnesses.
An arrest warrant has been issued for Richard L. Campbell of Edisto Island, S.C.: "Police told the Citizen-Times they did not make an immediate arrest because they had not witnessed the incident."
Warrants were taken out last night on Richard L. Campbell for Assault on Female. https://t.co/wHUmnInIRV

— Asheville Police (@AshevillePolice) September 13, 2016
The assault on Teeter happened at the same rally where a Trump supporter assaulted three other protesters inside the arena.
"Shirley Teeter told a local ABC News affiliate that she attended the event in Asheville, N.C., to protest Trump. She recalls telling supporters outside the rally that they should start learning Russian — alluding to Trump's admiration for Russian President Vladimir Putin. Then, she said, a man in front of her turned around and punched her in the jaw, knocking her down onto her backpack containing her metal oxygen tank."
"He turned around and just cold-cocked me," she said.
Video has emerged of the aftermath of the assault during which protesters try to chase down the man who punched Teeter:
Teeter spoke about the incident in an interview with ABC News 13:
https://www.youtube.com/watch?v=iM9dHBLHgZQ