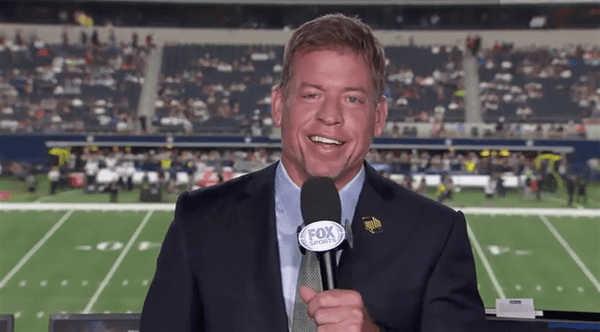 Former Dallas Cowboys QB and current Fox Sports lead NFL analyst Troy Aikman (above) is none too pleased that Fox has given sports commentator Skip Bayless (below) his own show, no doubt because Bayless has repeatedly insisted that Aikman is gay.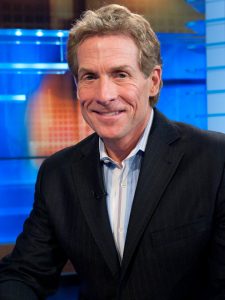 Bayless first made the claims about Aikman in a 1996 book he wrote called Hell-Bent: The Crazy Truth About the 'Win or Else' Dallas Cowboys.
Aikman has denied that he is gay and has reportedly been incensed by the suggestion since the 1990s.
Now that the two will be working at the same network, Aikman has blasted Fox for hiring Bayless.
"To say I'm disappointed in the hiring of Skip Bayless would be an enormous understatement," Aikman said. "Clearly, [Fox Sports president of national networks] Jamie Horowitz and I have a difference of opinion when it comes to building a successful organization. I believe success is achieved by acquiring and developing talented, respected and credible individuals, none of which applies to Skip Bayless."
Back in 2011, Aikman fumed about Bayless in a radio interview, jabbing Bayless by saying, "I'm not so sure Skip's not gay." He added, "I've not physically seen Skip Bayless since that time. That was in '95. And I still kind of wonder what I might do to him when I do see him."
Asked whether he would get physical with Bayless, Aikman responded only, "Well, I mean, I don't know. I don't know."
Bayless has stood by his statements that he believes Aikman is gay.
In 2015, Aikman touched on that radio interview he gave about Bayless and explained why he found the gay rumor troubling:
"I'm upset about it because it was made up and there was nothing accurate about anything that was insinuated. And he did it, as he does everything, just for attention. I am probably more upset because I probably should have responded to it at the time it was going on. The advice to me was "Hey, just don't address it. It's not worth it. It doesn't make any sense. It's ridiculous. All it's going to do is have people continue to talk about his book." So I didn't. But I probably could have responded differently and maybe that would have changed things. Maybe it wouldn't have. But it is ridiculous, and, yeah, it bothers me. If that is a lifestyle people choose, so be it. It doesn't affect me one way or another. But it is not my lifestyle."
Meanwhile, Deadspin argues that the feud between Aikman and Bayless is more or less for show: 
Fox Sports isn't ESPN, where employees are severely reprimanded for criticizing colleagues. Fox Sports employees are free to talk politics on Twitter, to get in the mud and wrestle with naysayers, and to float despicable conspiracy theories. Under Jamie Horowitz, Fox Sports's strategy has been to hire the worst of ESPN's yakkers and give them free rein to promulgate their shitty, bad takes, to generate as much controversy as possible. This strategy assumes that all publicity is good publicity, especially if it distracts from the network's middling ratings.