In 1996, former columnist now sports commentator Skip Bayless speculated that then Dallas Cowboy Troy Aikman was gay.  Aikman is still so pissed over it he might do something physical to Bayless if he seems him, the former NFLer told radio host Dan McDowell on his radio show this week.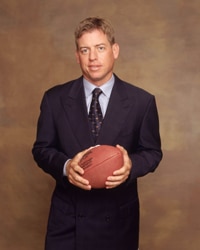 Bruce Tomaso at the Dallas Morning News reports:
This week, Aikman was asked about the episode on BaD Radio, the afternoon talk show on The Ticket (1310 AM). After saying — rather gratuitously — "I'm not so sure Skip's not gay," Aikman made it clear that he still bears a grudge.
"When a guy like that comes out and, whether it's intimated or stated, and there's no substance to that claim, and he's doing it purely to gain interest in a book, that's a problem.," he said. Aikman then added: "I will tell you this. I've not seen — I've not physically seen Skip Bayless since that time. That was in '95. And I still kind of wonder what I might do to him when I do see him."
Dan McDowell, the co-host of BaD Radio, pressed him on the point.
"You certainly will say something," McDowell said.
"Oh, yeah. Yeah," Aikman replied.
"But you don't think it will get physical, do you?" McDowell said.
"Well, I mean, I don't know. I don't know," Aikman said.
Listen to Aikman's remarks, AFTER THE JUMP…
In related news, in February 2009, Bayless said he stood by his statements.