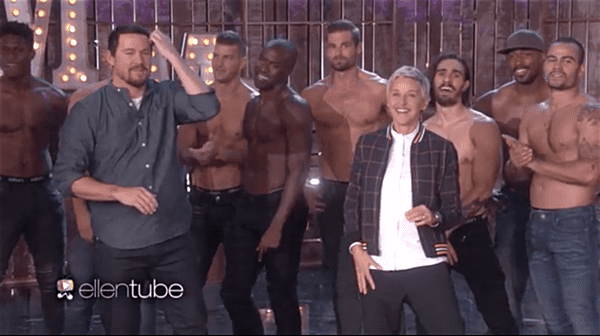 Channing Tatum and the men of Magic Mike Live dropped by Ellen DeGeneres' show on Tuesday to show just what they have been up over the past couple of months.
As we told you about earlier this year, Tatum announced that he would be producing Magic Mike Live in Las Vegas to recreate IRL the experience of going to one of the strip shows seen in the films based on his past as a male stripper.
Tatum told DeGeneres about the inspiration behind the project,
"I had a friend that had a girlfriend who went to Vegas and went to some of the male reviews there and she didn't tell my buddy about it and he's like why didn't you tell me. She was embarrassed. She was like I don't know it wasn't cool. We just thought let's go make something cool. Let's go make something really for you guys (ladies) and hopefully we're going to be able to do that."
He added that the show "should be empowering" and that he wants to offer "equal opportunity objectification for everyone." Tatum also didn't rule out the possibility that he would appear on the stage in Vegas, saying it might happen "If I ever get in shape again." Tatum says that he has no problem getting naked.
Towards the end of the show, Tatum brought out one of the performers from Magic Mike Live to give one lucky audience member a lap-dance.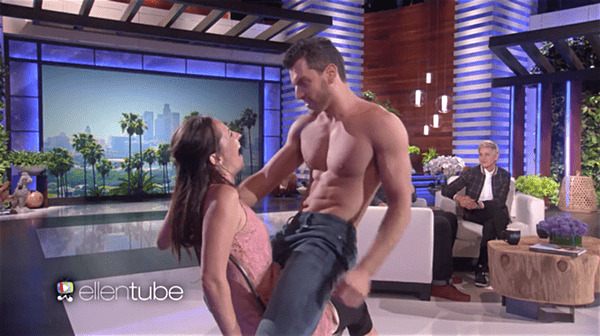 And she appeared overcome with…joy.
Also, Ellen trying to examine the thrusting and lap-dancing ever-so-closely is all of us.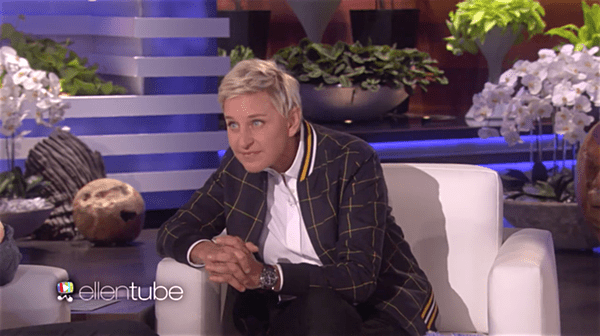 And just when it seemed like the show was over, that maybe things had gotten a little out of hand, Ellen and Tatum decided to give the audience more, revealing strippers hidden in the audience–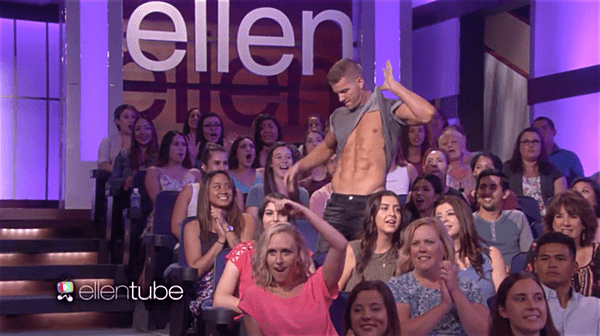 –and the whole Magic Mike Live crew ready to invite you onto their saddle.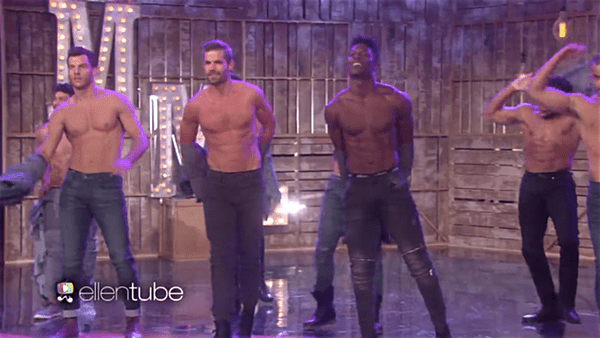 As the boys busted their moves to Ginuwine's "Pony", one woman in the audience showed us what it looks like to live your best life.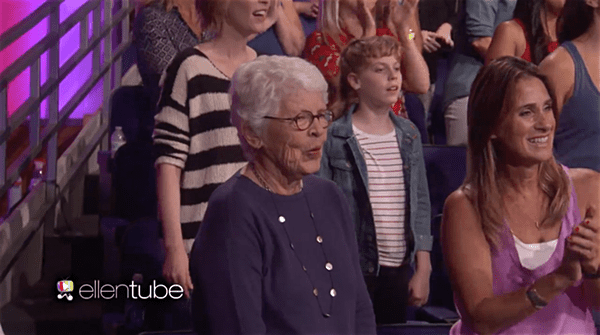 Watch what happens when the men of Magic Mike Live put their skills on display, below.
And also, check out more photos of the guys prepping for their performance on Ellen via Instagram, below.
https://instagram.com/p/BJyTdeUBkEW/
https://instagram.com/p/BJ4NZO3B-k8/?taken-by=magicmikelive
https://instagram.com/p/BJ1IbZXBkqb/?taken-by=magicmikelive
https://instagram.com/p/BJt-8GXhZc-/?taken-by=magicmikelive
Why this photo isn't captioned "Okay ladies, now let's get in formation", I will never understand.
https://instagram.com/p/BJl2p4WB8Bc/?taken-by=magicmikelive
https://instagram.com/p/BJjY9a3h9Td/?taken-by=magicmikelive
[h/t JustJared]