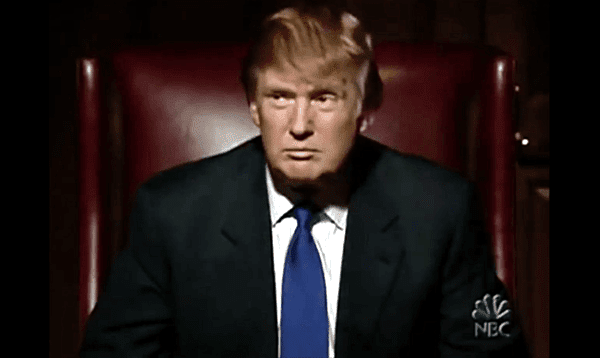 A new AP investigation of more than 20 people connected with Donald Trump's Apprentice franchise reveals that Trump regularly demeaned women sexually behind the scenes on the show.
Here's one example:
A former crew member who signed a non-disclosure agreement and asked not to be identified, recalled that Trump asked male contestants whether they would sleep with a particular female contestant, then expressed his own interest.
"We were in the boardroom one time figuring out who to blame for the task, and he just stopped in the middle and pointed to someone and said, 'You'd f–k her, wouldn't you? I'd f–k her. C'mon, wouldn't you?' Everyone is trying to make him stop talking, and the woman is shrinking in her seat."
Another from former producer Katherine Walker:
Walker, who said she was the only high-level female producer during the first season, said Trump turned to her during a break outside of the control room to ask who he should fire. Walker demurred, she said, but noted that team members had told her one contestant had caused her team to lose their business task. Trump raised his hands and cupped them to his chest to ask whether it was a contestant with large breasts, she said.
"He said, 'You mean the one with the' — and he puts his hands out in a gesture to signal the girl with the giant boobs. He didn't even know her name," Walker said, adding that the contestant, Kristi Frank, was fired at the end of the episode.
The Trump campaign denied the claims:
Said Hope Hicks, Trump's campaign spokeswoman: "These outlandish, unsubstantiated, and totally false claims fabricated by publicity hungry, opportunistic, disgruntled former employees, have no merit whatsoever. The Apprentice was one of the most successful prime-time television shows of all time and employed hundreds of people over many years, many of whom support Mr. Trump's candidacy."