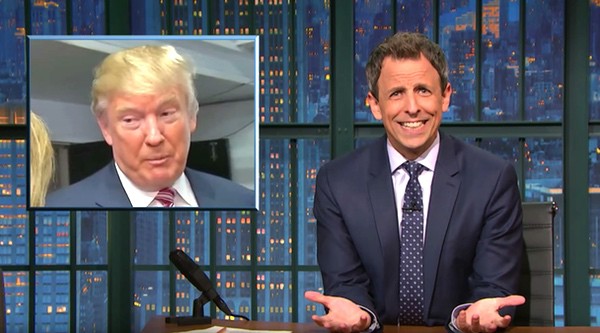 As the campaign winds down, Trump is getting more paranoid and delusional, and Seth Meyers took a closer look at the downward death spiral last night.
In just the last week, Trump had another abysmal debate for which he failed to prepare, launched a "nasty woman" attack at Hillary Clinton which completely backfired, and had a major policy speech at Gettysburg, which ended up being all about his threats to sue the women accusing him of sexual abuse.
Said Meyers: "Trump did worse at Gettysburg than the South did."
Trump's campaign also found a new enemy: dead people. Surrogates hit the campaign trail accusing thousands of registered dead people of conspiring to keep him out of office.
"Yeah they might be registered," Meyers quipped. "But I have a feeling turnout will be low."
And Meyers looks at voter suppression in places like North Carolina where people are lining up four hours to vote because of Republicans.
"The only place Trump ever spent 4 hours is backstage at a Miss Universe competition."
And, Meyers, notes, Trump is just sad. This week he defended himself to a reporter who asked him how he feels about being labeled sexist and racist.
But when Trump proclaimed, "I am the least racist person you've ever met," it was the saddest defense he's given all year.
Watch:
https://www.youtube.com/watch?v=XZr4tRQJ4GI