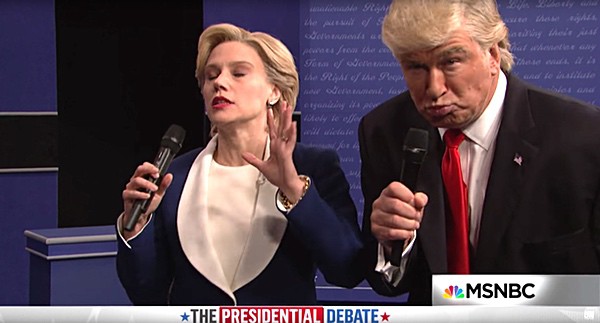 When Donald Trump hosted Saturday Night Live last year he clucked that "part of the reason I'm here is that I know how to take a joke."
Well, he lied again.
Trump called for the show's cancellation after being ruthlessly mocked in the show's cold open again last night, despite the fact that the hilarious regurgitation of events was little embellished.
Trump also claimed that the show is part of the vast media conspiracy to destroy his campaign in a tweet on Sunday morning: "Watched Saturday Night Live hit job on me. Time to retire the boring and unfunny show. Alec Baldwin portrayal stinks. Media rigging election!"
https://twitter.com/realDonaldTrump/status/787612552654155776?ref_src=twsrc%5Etfw
Said Baldwin in the sketch:
"Tonight I'm going to do three things: I'm going to huff, I'm going to puff and I'm going to blow this whole thing."
The sketch also touched on Trump's racism, his "stalking of Hillary Clinton on the debate stage, his sexual abuse of women and his attempt to turn the tables by bringing in Bill Clinton's accusers.
"Get real, I'm made of steel, this is nothing," said McKinnon's Clinton.
Replied Baldwin's Trump: "Martha, she is trying to silence these women but they need to be respected, they need their voices heard."
"What about all the women accusing you of sexual assault?", asked Cecily Strong's Martha Raddatz.
"They need to shut the hell up."
Watch the "second and worst ever" presidential debate: