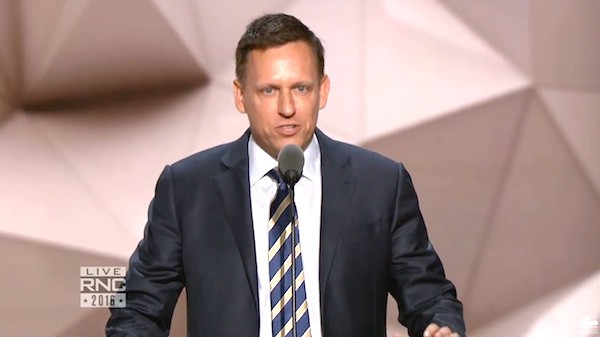 Gay PayPal billionaire Peter Thiel will donate $1.25 million to Donald Trump's campaign, according to the New York Times:
The only prominent supporter of the Republican candidate in the high-tech community, Mr. Thiel is making his first donation in support of Mr. Trump's election. He will give $1.25 million through a combination of super PAC donations and funds given directly to the campaign, a person close to the investor said on Saturday.
The Obama administration recently filed a lawsuit against Palantir Technologies, the start-up co-founded by Thiel which does big data analysis for the military and US government counter-terrorism groups and financial groups. The Department of Labor filed the suit against Palantir, alleging that the firm discriminated against Asian applicants in screenings and interviews.
Thiel, who brought down Gawker Media as revenge for outing him by bankrolling Hulk Hogan's multi-million dollar lawsuit against the company, told the Republican National Convention in August that he's "proud" to be gay.
Thiel also recently made headlines for reportedly telling friends that Donald Trump promised to nominate him to the Supreme Court.