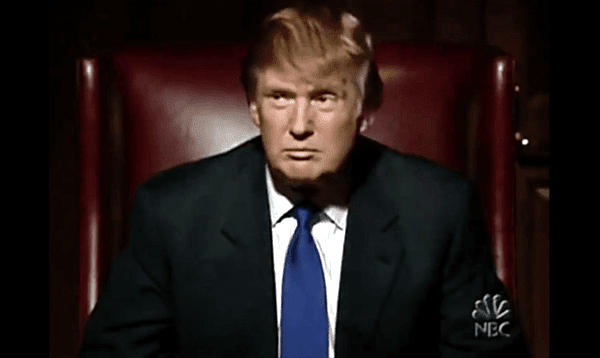 Donald Trump's off-color unscripted remarks made during the taping of his reality TV show The Apprentice were often transcribed, according to a new report.
Previous reporting has suggested Trump was often recorded on camera making degrading remarks to women about their looks during the filming of The Apprentice. Trump was also reportedly recorded making a racial slur. 
Now, sources familiar with The Apprentice have told The Huffington Post that the show hired a transcription service to transcribe its video footage prior to being edited.
According to HuffPo, many but not all of Trump's unscripted remarks were documented in these transcripts:
It's not clear how many transcripts exist. Sources say that some transcribers occasionally stuck to what they felt would end up in the program, while others took notes of what was said, regardless of whether it would air.
Those at "The Apprentice" have been intensely guarded about both the transcripts and the unaired footage. [Producer Mark] Burnett is reportedly a Trump supporter who has threatened to sue employees who leak material in violation of their nondisclosure agreements.
HuffPo says they have been able to obtain one such transcript, indicating that there are likely more in existence.
In that transcript, Trump relentlessly criticized a female country singer based on her appearance:
The episode, titled "Beauty and Brains," aired in 2010. Contestants were tasked with making over a country music star before presenting them to three music industry insiders. They improved the star's interviewing skills, produced promotional packets and helped them prepare for live radio shows and performances.
One team managed Emily West, a budding musician who later appeared on "America's Got Talent." The other managed Luke Bryan, a country singer and songwriter who has gone on to notable success.
During the boardroom session that decided which team did the better job transforming its artist, Trump turned the conversation sharply ― and at times, uncomfortably ― to West's physical appearance, specifically her skin.
"I assume you're gonna leave this off, don't put this shit on the show, you know. But her skin, her skin sucks, okay?" he says, according to the transcript. "I mean her skin, she needs some serious fuckin' dermatology."
Cyndi Lauper, who headed the team that managed West, interjected to explain that they used "dry stuff" ― presumably, makeup ― and said Trump was objecting to something that was "not her skin." But he remained unimpressed.
"F[–]k," he proclaimed. "That's Emily, that's what I'm hearing about? Let me see the other one. I assume you're not putting this on the show. 'Cause I don't wanna destroy the kid's career."
https://www.instagram.com/p/BK8q0ObhZ1n/
Said Trump of West's competition, a then little-known country singer named Luke Bryan, "Personally, I am, as you probably heard, not a gay man, but I think he's better looking that [sic] Emily okay?"
https://www.instagram.com/p/BKyfcAFAAIP/
The episode in questions stems from the same year in which Trump told Howard Stern that he's never had a gay thought in his life. He may have been referring to that interview while recording his show.
Lauper says the transcript is absolutely accurate:
"Yes, of course [he said that]," she told HuffPost. Lauper noted that the music industry often places a strong emphasis on physical appearance, but said Trump didn't have standing to criticize. "Of all people to talk about people's skin!" she said. "What the hell is going on with his?"
Lauper is not a fan of Trump. "That's the way he is," she said. "It is just very disappointing."
"There [Hillary Clinton] is [during Sunday night's debate], and he is walking behind her like he's a thug. And he's talking to her and her husband like that. And it's like, who are you? How dare you?" she asked.
"He's a reality star," Lauper added, "and he has low-lifed our entire political system that is so 1800 gangs of New York."